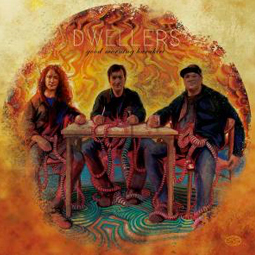 DWELLERS – "Good Morning Harakiri" (CD)
BACK TO SHOP
Dwellers is Joey Toscano (Iota), Dave Jones (Subrosa) and Zach Hatsis (Subrosa).
Their debut Small Stone record, "Good Morning Harakiri", combines the psychedelic soupy sludge riffery of Iota's 2008 debut, "Tales", with Subrosa's slow and low 2011 breakthrough album, "No Help for the Mighty Ones". Already being tagged as Ritual Rock, Blessedly Doomed, and Deranged Blues – this album will scratch the itch of folks who like their Rock to be dark, moody, and easy to sing along to.
6 tracks filled with slide guitars, vibraphone, fuzz-drenched leads, exotic drumming, melodic vocals, and Earth moving low end.
971 in stock
BACK TO SHOP