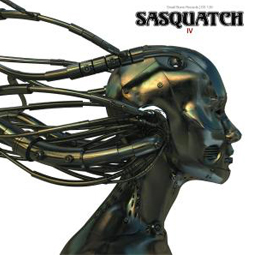 Sasquatch – "IV" (CD)
BACK TO SHOP
Now the time has finally come for Sasquatch members Keith Gibbs (guitar, vox), Jason Casanova (bass) and Rick Ferrante (drums) to deliver a brand-spanking new album, whose chosen title – IV – was as inevitable as the urgent need shared by discerning fans of superior, song-oriented rock to HEAR IT – and pronto!
What they will hear is arguably the power trio's most mature, inspired and diverse song-set to date, rife with compositional twists, both heartwarmingly familiar and totally unexpected, plus thundering power chords, sizzling solos, shrewd melodic flights and even super-trippy moments – but all of it heavy on the heavy, as they say…always.
To top it off, Sasquatch have upped their game where the lyrics are concerned, devoting unprecedented attention to spinning engaging new yarns out of those evergreen rock and roll stories about love lost, hate found, relationships built and lives trashed, homes wrecked, etc. All's fair in love and doom.
At the end of the day, IV's shimmering end results reveal a real ALBUM, not just a collection of songs that happen to be living under the same roof to save a little rent money!
Out of stock
BACK TO SHOP