SS-142 :: LUDER – Adelphophagia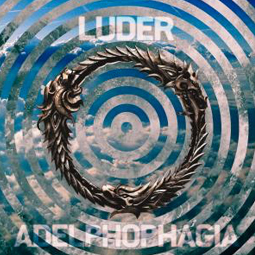 Label: Small Stone Records
Release date: 2013
Catalog number: SS-142/2013
TRACKLIST:
1. Never Liked You 04:26
2. Astrolabe 05:31
3. One Eye 07:31
4. Heartfelt 08:55
5. Ask The Sky 06:00
6. You Try It 05:45
7. Dirge 09:46
8. I'm Afraid Of Americans 05:20
9. Remember What I Said 09:19
REVIEWS:
"Luder are such a potent chemical made up of many elements most of which can be found in the half-light of pop, alternative, trip-hop and of course – the reason why we're all gathered here today – metal." UBER ROCK
"Most people will not be expecting an album that, not only sounds like nothing else on the Small Stone roster but is literally incredible from the first note to the last… As sonically diverse and experimental as this album can be at times at its core lies a strong collection of very catchy, memorable and frankly awesome tunes." THE SLEEPING SHAMAN
"The members of Luder unfurl just enough unorthodox elements from their separate prior musical paths to give those templates some distinction, including classic, psychedelic, and stoner rock elements, metallic riff worship, and even a discreet power pop undercurrent that alleviates the exquisite torment of it all…" ALL MUSIC GUIDE
ALBUM INFO:
Released 08 October 2013
Luder is:
Eric Miller: drums & percussion
Sue Lott: bass & vox
Phil Dürr: guitars & leads
Scott Hamilton: guitars & effects
Additional Players:
Eric Hoegemeyer: piano, backing vox, percussion, sounds
Matthew Richards: backing vocals and other noises
Produced by Eric Hoegemeyer and Luder .
Recorded and engineered by Eric Hoegemeyer, Steve Lehane, and Alex Kaye.
Recorded at Rust Belt Studios – Royal Oak, MI.
Vocals recorded and engineered by Clyde Wilson at Mount Doom Studio – Warren, MI.
Mixed by Eric Hoegemeyer at Tree Laboratory – Brooklyn, NY.
Mastered by Chris Goosman at Baseline Audio – Ann Arbor, MI.
Art by Matthew Richards and Sue Lott (mochimad.com).
Photography by Matthew Richards and Sue Lott.
Lighting assistance by Rich Watson (digitalfarm.net).
Textiles by The T-Shirt Guy – Warren, MI.
All songs written by Luder, except "I'm Afraid Of Americans" written by David Bowie, Brian Eno, published by TINTORETTO MUSIC / UPALA MUSIC INC (BMI).
Published by Small Stone Records (ASCAP).