SS-157 :: LA CHINGA – Freewheelin'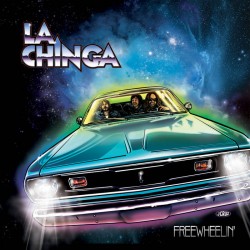 Label: SMALLSTONE RECORDS
Release date: 03/25/2016
Catalog number: SS-157
TRACKLIST:
1. Gone Gypsy
2. Mother Of All Snakeheads
3. White Witchy Black Magic 03:09
4. Stoned Grease White Lightnin'
5. Faded Angel
6. Mountain Momma
7. War Cry
8. K.I.W.
9. Right On
10. The Dawn Of Man
ALBUM INFO:
Credits:
La Chinga is:
Carl Spackler: lead vocals, bass
Jay Solyom: drums, percussion, backing vocals
Ben Yardley: guitar, mandolin, theremin, backing vocals, lead vocals on track 5
Recorded and produced by Jay Solyom in his basement.
Tracks 8 and 9 beds recorded by Eric Neilson at Afterlife Studios.
Mastered by Chris Goosman at Baseline Audio Labs, Ann Arbor, MI.
Cover art by Jason Cruz.
Layout stuff by Alexander von Wieding.
All songs written by La Chinga.
Published by Small Stone Records (ASCAP).