THE GLASSPACK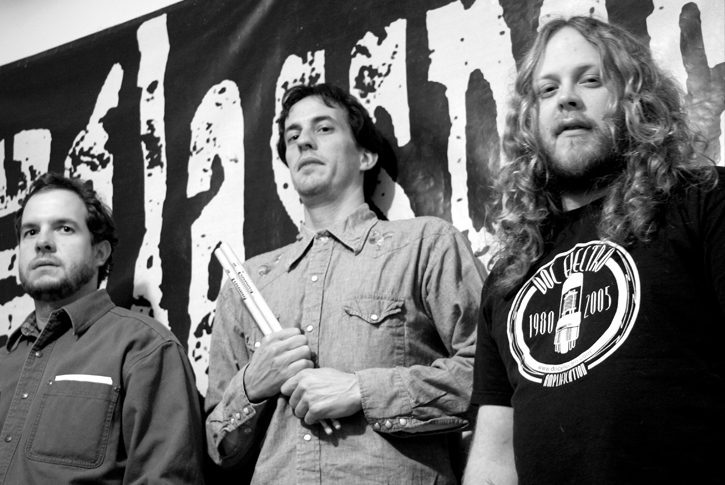 Biography
Kentucky isn't known for its subtle contributions to American society. The world famous quality of its fine Kentucky Bourbons, the Louisville Slugger, and most recently, the mighty rawk onslaught that is The Glasspack. Still it can't be much of a surprise that a state renowned for a drink that makes you want to smash things or the tool with which to do it would be the birthplace of a band that can inspire both simultaneously.
Formed in the last gasps of the 20th century by singer/songwriter and front-man "Dirty" Dave Johnson, The Glasspack was Louisville's answer to the worn-out classic rock permeating the airwaves. Like a fine Kentucky Bourbon "Dirty" Dave & Co. blended the best elements from the 60's jam rock that they were raised on with the 70's punk and hard rock that had inspire them to pick up instruments in the first place. The Pack, as fans have come to know them, burst onto the local scene in early 2000. Honing their explosive live show around town into a more controllable combustible over the ensuing months 2001 saw a self released album entitled "American Exhaust" which led to more shows this time on a national level and thus attracted the attention of us here at Small Stone.
Thus began the vicious cycle for the Pack; Tour, Record, Tour, Tour, Record. It's a strategy that's work well for them. Each successive album shows the bands prowess growing by multiples of 10. Each time the riffs are heavier, the songs more skillfully crafted, and the explosive nature of the live show come through clearer and clearer. Dirty Women showcases the most recent fruits of their labors. Dave & the boys pulled out all the stops on this one, even going so far to bring in hired guns like Adam "The Rock'N'Roll Outlaw" Neal (Nashville Pussy, The Hookers) and Matt Jaha (Coliseum, Lords).
From the moment you press play Dirty Women explodes right out of your speakers, slaps you in the face and asks you if you want more. It's not subtle, but what in Kentucky is?
As always, look for the Glasspack on the road. And watch out, whether its' Bourbon or bats The Pack is bound to be packing a little piece of home.
Copyright© Small Stone Recordings