LANGFINGER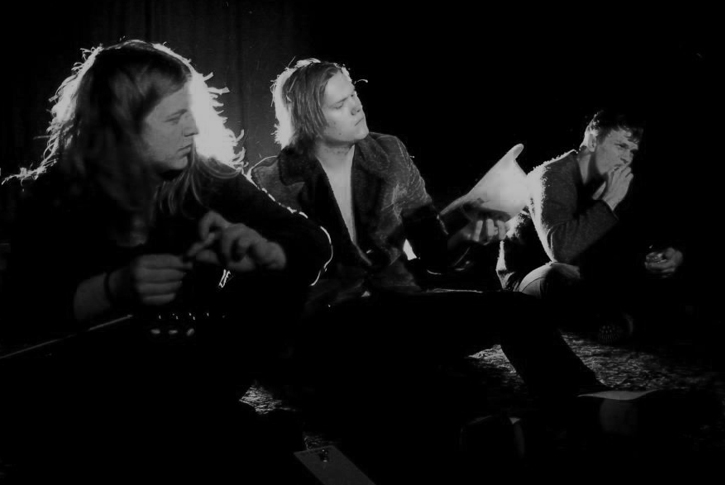 Biography
"A kick-ass power trio is quite probably the perfect rock formation. If there aren't that many trios around, that's because it's a hard thing to pull off: with just three people having to nail the rhythmic fusion of bass and drums, the wild colours of guitar and the soul-grabbing focus of the human voice, there can be no passengers aboard. Extraordinary chemistry is essential. Everyone has to be right on it, and locked in. Which is why lots of trios fail, or cop out and recruit extras.
Långfinger, from the fertile rock 'n' roll city of Gothenburg, are masters of the art. They've been playing together since they were in their early teens, and their imminent third album, called 'Crossyears', is both the thrilling culmination of their collective endeavour, and a rumination on it – on how Time has shaped them and brought them to this point.
Guitarist Kalle Lilja and drummer Jesper Pihl were toddlers when Nirvana's era-defining 'Nevermind' came out in 91. Singing bassist Victor Crusner wasn't even born. Unlike so many great groups, whom Fate dealt an easy hand by housing them on the same street, Långfinger grew up in different 'hoods and suburbs, and had to seek out their perfect union.
Kalle and Jesper met first a party and had a trio going with a different bassist, when a mutual friend introduced them to Victor, who was two or three years their junior. They agreed to rehearse separately from the other bassist, and, suitably enthused, were considering starting a parallel trio together, when the other guy flunked out on a gig, and Victor stepped in.
Kalle's parents had deeply imbued their son in all areas of classic rock, with a twist of hippie-folk, while Jesper and Victor's respective folks leaned more towards hard rock and metal, from T Rex to Thin Lizzy and beyond. By the early '00s, all three'd discovered grunge, ten years after the fact, as the most contemporary heavy music that resonated – they all instinctively knew the big noises of their era, Limp Bizkit and Linkin Park, were a no-no.
On top of moodier grunge combos like Soundgarden and Alice In Chains, much of their inspiration came from their home city, and the burgeoning of melodic death-metal bands like In Flames, The Haunted, Dark Tranquility and At The Gates, who were taking their "Gothenburg sound" to the world on a scale which blew their teenage minds.
"You'd go around the city in your car on a Saturday morning," Victor recalls, "and they'd play 'Take This Life' by In Flames, right next to James Blunt. When you're 13, 14, 16, it was a huge thing to see people from your town actually getting places, touring Japan, Australia and the US."
Fired up with dreams of 'making it', all their peers' bands would play at after-school parties across the city on a Friday or Saturday, the majority in a straight-ahead Gothenburg-sound vein. Långfinger were different, rehearsing way out of town in a space they rented off Franciscan monks, woodshedding a sound that was initially rooted in the stoner-rock of Kyuss.
"Every song had to be at least 6 or 7 minutes long, and only have 2 riffs," laughs Victor. "In fact, in our practice space, we could easily play one song for 12 or 13 minutes with just one riff, and think that was the greatest song in the world."
That perception changed once they played live and found such methods generally cleared the room. So they gradually hatched a sound that blended grunge anthemicism, a dash of melodic death, and lashings of vintage metal from the '70s and early '80s – an epically rockin', orgiastic celebration of the many ages of heaviosity, for the post-millennial here and now.
Through the late '00s, they gigged as much as possible, sharpening their chops, then rustled up the cash to self-release 2010's 'Skygrounds', a raw debut album which foregrounded these late-teenagers' alchemical energy. To their surprise, lead track 'Herbs In My Garden' was picked up and A-listed by Sweden's hippest national radio station, Bandit Rock.
The following year's 'Stare Me Blind EP' served up four punchier tunes, and by '12's second long-player, 'Slow Rivers', an association with local heroes The Soundtrack Of Our Lives (they recorded at bassist Kalle Gustafsson Jerneholm's Svenska Grammfon studio, and collaborated on two tracks with cosmic frontman Ebbot Lundberg of The Soundtrack of Our Lives), expanded their palette to include keyboards, sitars, harpsicord and an overall more skyscraping psych-rock vibe.
After touring Sweden intensively, and also visiting Germany, certain Balkan territories and the UK, Långfinger were ready to take stock. Demoing new material on the island of Orust, off the Gothenburg coast, the conclusion they came to, after much soul-searching, was that their three-way chemistry is their greatest asset.
"'Slow Rivers' was an experimental phase," reflects Victor, "about creating something bigger than a trio. This time, we wanted to go back to live recording, where it's drums, bass and guitar, in one room, and not much else. It became clear through pre-production that Långfinger is basically three friends who like playing and creating new music together. Something great always happens when we do. Someone'll have a riff or a starting point, and it just explodes from there. So we went back to that mentality of jamming, just to see what happened, and have the album be this live band playing, showing all their accumulated knowledge together."
The requisite room they played in was, again, somewhere unusual: Welfare Sounds sits atop a tunnel which has a special place amongst Gothenburg's civic thoroughfares, as it's the only one which has clearance for dangerous materials such as explosives to be transported through it. Consequently, all the buildings above were decreed uninhabitable except for work purposes. Production duo Olle Björk and Johan Reiven bought theirs for a pittance off a departing resident.
It was to this isolated compound that Victor, Kalle and Jesper repaired for two weeks in December '14, and recorded all the instrumental parts on 'Crossyears'. Their joy in creating them is tangible. Upfront tracks 'Feather Beader', ' Say Jupiter' and 'Fox Confessor' are built around mighty riffs, simple but arranged with deceptive genius. 'Atlas', the seven-minute centrepiece, somehow makes muscular, sky-scraping metal from Kalle's folkie guitar lick. Towards the end, 'Last Morning light' evokes heavy icons Zeppelin and Sabbath, as much for their pioneering excitement as any technical compatibility – a priceless quality in today's meticulous retro-recreation culture.
Thereafter, through early '15, Victor recorded his vocals at his own pace, at home, rather than just knocking them out in a hectic final two hours at Welfare Sounds. What he sang about, he says, was "more descriptive of our relationship – mine to the other guys in the band, and what we're doing – than the usual failed relationships, break-ups and whatnot."
'Skygrounds' had been loosely themed around mountains, whereas 'Slow Rivers' was couched in watery images. 'Crossyears' zeroes in on time, which Victor, at 23, has started to perceive from an adult perspective. The title track meditates on a "friend and close relative who passed away, and his condition, and how it affected him through the years". 'Atlas', by contrast, marks the tenth anniversary of the tsunami in South-East Asia, "when a friend and his father floated around in the ocean for two days after it hit, clinging onto this piece of wood, until a Canadian boat picked them up. So they survived. The song is like a tribute to life, and living."
Other songs, like 'Say Jupiter', are more like diary entries about what was going on in Långfinger at the time, while 'Fox Confessor' was coloured by Victor's location in rural Argentina at the time of writing. Thus, for him, the whole album "has this dramaturgical curve, based on where we were at, when we did each song, and how life was then and there".
Within its hard-hitting grooves, the interlocking of Långfinger's three disparate characters – Kalle, the unflappable, precision axeman; Jesper, the athletic sticksman battering out physical revenge on his kit; and Victor, the intense, exploratory spirit, bridging thundering bass and howling exorcism – is a magical proposition.
After 'Crossyears' was mixed and mastered, the album's release was delayed while Victor spent time in New York recording soundtrack music. On his return, the reinvigorated trio decided to release a track from the Orust demos as a single, and invited friends and artists to paint unique sleeves for 100 vinyl copies, which all sold out at a launch party pre-Xmas '15. Now, at the time of writing, the band are Transatlantically with their third album being released on Small Stone Records – a fitting step up the ladder with this record which they're rightly so proud of.
"We never had a plan to be the biggest band on earth," Victor humbly muses. "We just want to become the best version of Långfinger as possible, and find new ways to play music as the three of us. We have this chemistry that's been developed through our time together – almost ten years now – and we have a unity that few bands have. Before now, we were never all in the same place, mentally. We'd argue about what music to play in the van, but doing this album, we all really wanted to make the band work, and focused on making it the best it can be".
For any fan of the many ages of heavy rock, 'Crossyears' really is as good as it gets."
-Andrew Perry – London, March 2016
"Gothenburg's new classic rock exports"
Kalle Gustafsson Jerneholm (The Soundtrack of Our Lives)
"Look for this Trio if you like early Zeppelin and Cream"
Ebbot Lundberg (The Soundtrack of Our Lives)
"I'm seriously impressed by the proficiency of these three multi-instrumentalists"
Wahrschauer Magazine
"Really good psychedelic rock" / "Catchy and well-crafted songs" / "Unusual, but really good!"
Ox Fanzine
"A rock album in the style of the seventies"
Der Kosmische Penis Fanzine
"Again and again, flashes of good songs"
Friesländer Boten
"Pure, ambitious rock which is best served loud."
Ja Ja Ja Music