MOTHER OF GOD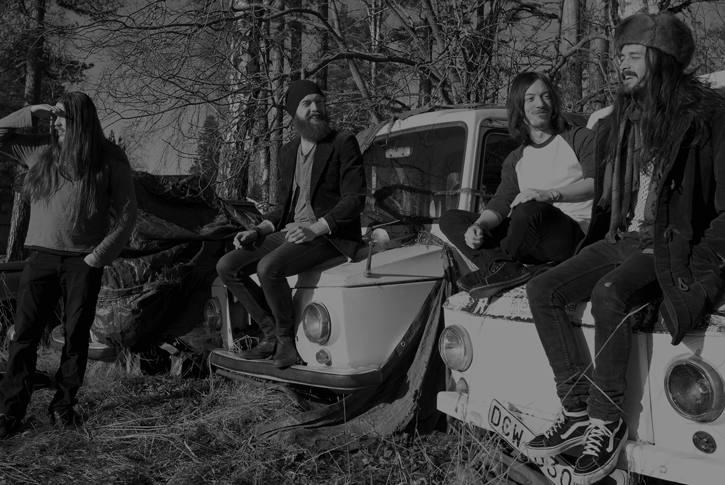 Biography
"Woke up at dawn and felt a presence, nature spirits, observing me. Looked out through the window. Black shape. I went to the nearby forest and the journey had begun. Without a direct way, I went through the woods and crossed mountains. Suddenly elated by light, I was under the raven's wings. Numb. Awakened by a thud and the silhouettes of the three. Embrace. The circle was complete." — Mother of God
Born in 2008 and raised on rock in Morgårdshammar, Sweden, the four-piece Mother of God cast off a lot of the retro '70s mentality of their countrymen in favor of a more modern approach. Well, 20 years more modern, anyway. Mother of God no doubt have some appreciation for the finer things in '70s rock – there are beards to prove it – but musically they incorporate influences from grunge and the heavy grooves of the early '90s. Bands like Soundgarden and Alice in Chains mesh their downtrodden grunge melodies alongside classic inspiration drawn from Black Sabbath and Led Zeppelin.
These might sound like familiar elements – at least the names ring out – but Mother of God bring their own emotional spin to their Small Stone debut, Anthropos, and never quite cooperate with what you think they'll do next. The band has released two prior EPs – 2011's Forging a New Path and their debut – and they recorded and mixed Anthropos in Borlänge with Erik Nerback, Chris Goosman mastered, and Sanna Albenius, Robin Gnista and Alexander von Wieding provided art and layout design.
In addition to festival appearances at Getaway Rock, Wacken Open Air in Germany and Peace & Love, Mother of God have shared the stage with YOB, Dozer, Graveyard, Imperial State Electric and more, and they'll look to continue their live domination in Scandinavia and beyond in support of Anthropos, shoving their eclectic sound and undeniable hooks right in the faces of everyone who thinks they know what heavy rock should sound like.
Booking
Agency: MONSTER ROCK BOOKING
Phone: (+351) 917621288
Email: jmonsterrockbooking@gmail.com
The artist
Nationality: Sweden
Resident in: Morgårdshammar