RED GIANT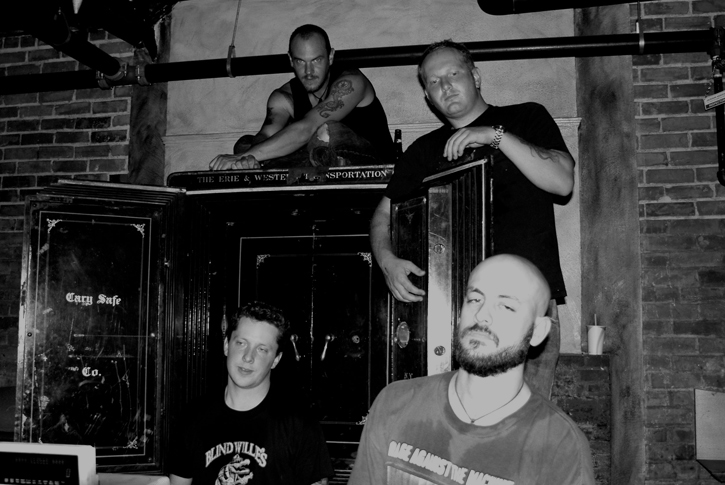 Biography
It's a story you've heard a hundred times before. Four outcast kids meet in high school. They discover that they all love Sabbath, Kiss, Zeppelin, Hendrix, Slayer and Soundgarden. Much to their surprise they also discover that two of them play guitar, one plays drums and the last one plays bass. So they form a band. They freak out in their parent's basements and they fall madly in love with ROCK! This is usually the point where you'd turn the page, throw the disc in the trash, or politely excuse your-self and make a b line for the bar. Usually you'd be right but that's not the case with Red Giant. Somehow these misfit kids managed to avoid the usual local band pitfalls and forge a sound as menacing as it is spacey and as anthemic as it is crushing. Red Giant is the true result of musical hero worship gone wrong, but it just feels right.
Their debut album came out on the local indie label, Cambodia Records, home to the cities finest array of local talent (Keelhaul, Craw, Disengage). This in turn piqued the interest of TeePee Records who released the space-rock epic "Ultra Magnetic Glowing Sound". Heavy and sonically colorful, the disk met with rave reviews and garnered the boys a devoted following outside of Cleveland. Having contributed a track to "Right in the Nuts: A Tribute to Aerosmith" Small Stone seemed like the perfect home for Red Giant's particular blend of 70's influenced, heavy, spaced-out rock & roll and thus the boys jumped ship once more and signed with the Stone in the fall of 2003. Their Small Stone debut, "Devil Child Blues" was met with even more critical raves. This lead to several tours of the U.S. including a couple of trips down to Austin, Texas for South by Southwest. Red Giant even appeared in a few commercials on MTV2. All the while they continued rocking bigger and bigger stages with more and more bands the likes of Clutch, Mushroomhead, and Monster Magnet. Six years on and off the road, hard living and personal tensions did what it always does leaving the Giant without a drummer. Enter Eric Matthews (ex- Propain, Spudmonsters) and full length number four, "Dysfunctional Majesty."
Recorded and mixed by Benny Grotto at Mad Oak Studios, Allston, MA "Dysfunctional Majesty" is twelve killer tracks in the heavy and hard style you've come to expect from Red Giant. Passionate and bluesy with epic lead guitars and whiskey drenched vocals that fly above that thunderous rhythm. It may be a story you've heard a hundred times before, but you've never heard rock and roll like this before. Unless you've been to Cleveland. Look for the record this fall and for the band on beer soaked stages this winter.
Copyright© Small Stone Recordings