SUN GODS IN EXILE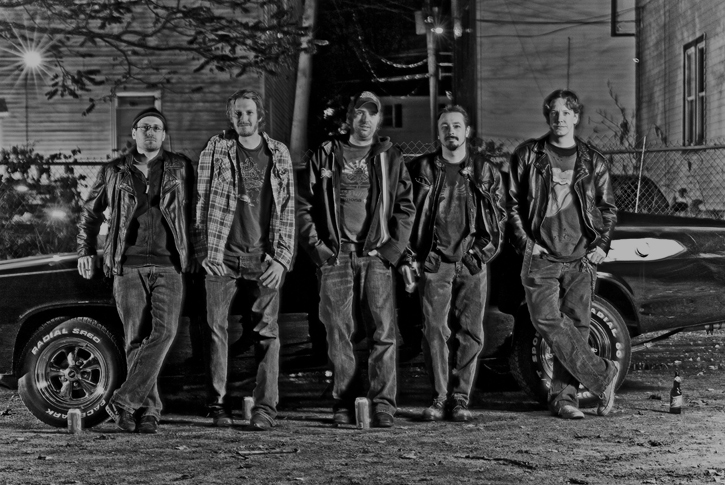 Biography
Saddle up the horses and take your guns to town boys because the Sun Gods in Exile are back. After a three year silence Portland's God's of Southern Fried Biker Boogie Rock have cowboy-ed up and returned to shake the dried clay from your boots and put a little swagger in your step. Ten thunderous tracks titled "Thanks for the Silver" that add just a little more southern than fried this time around and take aim with their six shooters hitting the target every single time.
Formed in early 2008 by four guys that worship at the altar of vintage rock, Sun Gods In Exile is more than the sum of their respected pasts. After a brief stint in Boston's Cortez, Portland, Maine guitarist Anthony D'Agostino hooked up with old friend bassist JL, late of Ocean, to get back to basics and to play the kind of old school rock and roll that they both love. Augmented by the rock steady addition of Johnny Kennedy on drums and centered around the southern-fried vocals (and guitar) of Adam Hitchcock the boys of SGIE quickly became a club favorite all along the eastern seaboard, garnering opening slots with many including Roadsaw, Hackman, Mess With The Bull, The Brought Low and many others. Hearing what Tony & Co. had we here at Small Stone quickly signed Sun Gods In Exile and sent them into Mad Oak Studios to record their debut album "Black Light, White Lines." 2010 saw the band making their debut at SXSW as well as trips up and down the coasts and a first foray across the pond. After three years and countless devastating live shows the band returned to Portland to re-group and write what would become "Thanks for the Silver." In the process, SGIE added a fifth full time member, Christopher Neal, on the keys as well as swapping JL for his brother Mark on bass.
"Thanks for the Silver" shows the Sun Gods in Exile truly coming into their own. Adam and the boys haven't just traded in their beer and muscle cars for whiskey and horses. "Thanks for the Silver" presents a band self-assured and self-aware with all the strength and swing of the first album and yet more mature at the same time. Christoper's adddition on organ, harmonica and slide guitar add flourishs only hinted at on "Black Light, White Lines" without detracting from the power that Mark and JK are pounding out. And Tony D hasn't given up a lick of ground when it comes to riffs and solos. Check it out and we hope you'll agree and say "Thanks for the Silver."
For fans of: Black Crowes, Allman Brothers, Blackfoot, The Brought Low, Infernal Overdrive, James Gang, AC~DC, Alice Cooper, Gideon Smith & The Dixie Dammned, Shame Club, The Cult, Dixie Witch, Roadsaw, Lynyrd Skynyrd, and Molly Hatchet.
Copyright© Small Stone Recordings