SS-150 :: WO FAT – The Conjuring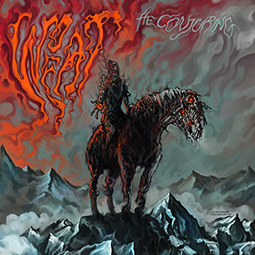 Label: Small Stone Records
Release date: June 17th, 2014
Catalog number: SS-150
Track List
1. The Conjuring
2. Read The Omens
3. Pale Rider From the Ice
4. Beggar's Bargain
5. Dreamwalker
Album Info
You can wade through as many press quotes about "Texas-sized" as you want or see how many top-whatever lists Wo Fat have made since the Dallas trio got started in 2003, but none of that is going to be the same as staring down their swampadelic fuzz groove for yourself. If you want to know the monster, shake its hand.
In 2014, Wo Fat will release The Conjuring, their fifth full-length and second through Small Stone. Like their last two, 2012's The Black Code and 2011's Noche del Chupacabra, it's a heavy-riff/heavy-jam blast of a time – the kind of record that turns the vaguely interested into converts and that makes the corners on squares look even sharper. Guitarist/vocalist Kent Stump, bassist Tim Wilson and drummer/backing vocalist Michael Walter are jazz-combo tight and their roll is easy and natural, like you remember Fu Manchu being, but bigger-sounding and in the case of The Conjuriing, darker as well.
There's been a creature lurking in the woods since Wo Fat's 2006 debut, The Gathering Dark – their second album, 2009's Psychedelonaut, pulled back on the threat some to lighten the mood – but whether it's the motor-driven rush of "Read the Omens" or the you're-already-lost-in-it riff-exploration of 17-minute closer "Dreamwalker," The Conjuring is indeed a backwoods ritual. Bluesmen have sold their souls for less.
Veterans of Roadburn, slated for Freak Valley 2014 and self-sufficient with Stump handling the recording at his own Crystal Clear Sound in Dallas, Wo Fat push their jams farther than they've ever gone before on these five tracks. Topped off with a mastering job from Nolan Brett at Stump's studio and an otherworldly cover courtesy of Alexander Von Wieding, the beast that Wo Fat's tectonic riffage calls to earth has never seemed more real or more alive than it does on The Conjuring.
Credits
WO FAT is:
Kent Stump: guitar, vox,
Tim Wilson: bass
Michael Walter: baterie mastodontica, harmony vox
Recorded and mixed by Kent Stump at Crystal Clear Sound, Dallas, Tejas.
Mastered by Nolan Brett at Crystal Clear Sound.
Album artwork, logo design and song titles typography art by Alexander Von Wieding, www.zeichentier.com.
All songs written by K. Stump, M. Walter, T. Wilson.
Published by Small Stone Records (ASCAP)