SS-173 :: SUNDRIFTER – Visitations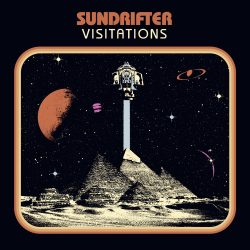 Label: Small Stone Records
Release date: October 19th, 2018
Catalog number: SS-173
Track List
Sons Of Belial
Death March
Lightworker
Targeted
Till You Come Down
Hammerburn
Sky Peoples Son
Fire In the Sky
I Want To Leave
Album Info
Born out of a Boston rock underground teeming with history and riffs alike, Sundrifter capture the essence of tonal weight with their Small Stone debut, Visitations. Their second album overall behind 2016's Not Coming Back, the nine-track long-player harnesses spaciousness and heft alike and soars with melodic vibrancy in a way most acts simply can't balance. Shades of Soundgarden and Queens of the Stone Age appear, but they're just shades, and Sundrifter's vision of heavy is their own, someplace between grunge, doom, psychedelia and classic heavy rock.
Sundrifter is comprised of guitarist/vocalist Craig Puera, bassist Paul Gaughran and drummer Patrick Queenan, and Visitations was engineered, mixed and mastered by Dan Schwartz at Futura Productions in Roslindale, Massachusetts. The space the record captures isn't of the Hawkwind, pulsating rhythm variety, but instead one that oozes with planetary motion, one that rolls along a chaotic cosmic path, not at all afraid to smash one asteroid off another before crashing to the surface, which, as we all know, is how life began in the first place.
Credits
Sundrifter is:
Craig Peura: guitars & vocals
Patrick Queenan: drums & percussion
Paul Gaughran: bass
Recorded, mixed, and mastered by Dan Schwartz at Futura Productions – Roslindale, MA.
Art and design by Branca Studios.
All songs written and performed by Sundrifter.
Published by Small Stone Records (ASCAP).