SS-185 :: ROBOTS OF THE ANCIENT WORLD – Mystic Goddess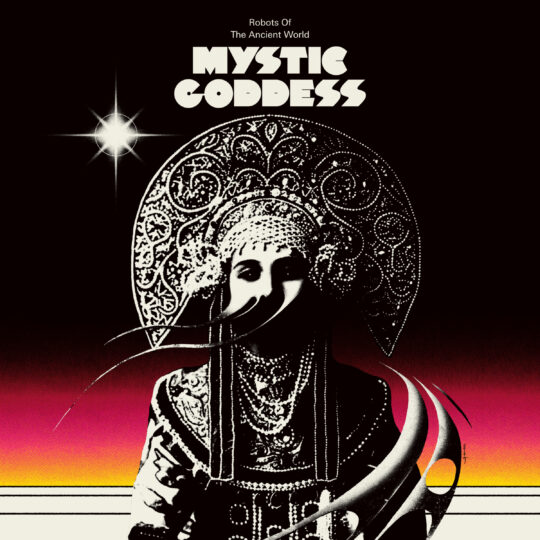 Label: Small Stone Records
Release date: May 21st, 2021
Catalog number: SS-185
Track List
Mystic Goddess
Wasteland
Agua Caliente
Out of the Gallows
Unholy Trinity
The Great Divide
Karma
The Fall
Album Info
Created by a rare 2015 planetary alignment, Robots of the Ancient World made an immediate impact with a meteor shower of cosmic grooves and high-octane riffs in the galactic vortex where doom, psych and stoner rock collide. As a live act they are a force to be reckoned and their 2019 debut Cosmic Riders has garnered over 300,000 plays and counting on digital streaming sites, including bandcamp, Spotify and YouTube.
Eager to take their sound to uncharted regions of the galaxy, ROTAW entered Seattle's Soundhouse Studios in Feb. 2020 to record with Jack Endino, famed sonic architect of the grunge revolution, and his longtime protégé Mikel Perkins. They emerged through the wormhole with Mystic Goddess, a 43-minute sonic star trek with a range of styles that keeps the listener engaged while never losing focus or sacrificing flow.
"Raw, powerful, no nonsense production is what we were seeking," says guitarist Justin Laubscher. After connecting with Endino through a friend and veteran of the grunge wars, Laubscher says the band "scraped up every nickel we could and went for it".
Recorded, mixed, and mastered in 6 days, Mystic Goddess almost crashed and burned prior to liftoff. Four days in, Endino abruptly fell ill, "wrecked from this weird flu from hell," according to Laubscher. "At the time, COVID-19 was not yet a thing in the US." Perkins engineered the final two days of tracking. "Perkins is a legend, stepped in without missing a beat and we all felt at ease," says Laubscher. "He entertained our more fringe ideas, the ones up until that point I was apprehensive to present to Jack." Endino eventually finished the mixes remotely and Perkins is credited as co-producer.
Musically, the new album includes nods to stoner rock titans like the Stooges, Kyuss and Boris but the band also wasn't afraid to borrow ideas from Guns 'N' Roses and Santana, while deep diving into their usual lyrical fetishes.
"I'm intrigued by psychedelics, esotericism and conspiracy theories, love to go deep with secret societies, other dimensions, and all that jazz. So, when you hear the Carl Sagan intro to Cosmic Riders, or David Icke closing out Mystic Goddess, it's a tribute, a nod to those dudes who are a creative inspiration for my song writing," says Laubscher.
After making it through the pandemics, riots and wildfires of 2020, Robots of the Ancient World are excited to have Mystic Goddess released by Small Stone Records on May 21st, 2021. The band will be heading to Europe to tour as soon as possible with extensive US dates to follow.
Credits
Robots of the Ancient World is:
Caleb Weidenbach: vocals
Nico Schmutz: guitar
Justin Laubscher: guitar
Trevor Berecek: bass
Harry Silvers: drums
Recorded by Jack Endino and Mikel Perkins at Soundhouse Studios Seattle, WA 2020.
Mixed and mastered by Jack Endino.
Album art and layout by Robin Gnista.
Photography by Eddie Brnabic.
All songs written and performed by Robots of the Ancient World.
Published by SH Small Stone Music (BMI).