SS-074 :: GREENLEAF – Agents Of Ahriman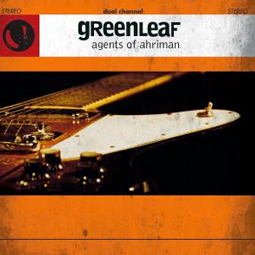 Label: Small Stone Records
Release date: 2007
Catalog number: SS-074/2007
TRACKLIST:
1. Highway Officer 04:12
2. Treehorn 04:50
3. Alishan Mountain 04:24
4. Black Tar 03:26
5. The Lake 04:35
6. Agents Of Ahriman 03:42
7. Ride Another Highway 02:48
8. Sleep Paralysis 06:05
9. Stray Bullet Woman 03:05
REVIEWS:
ALBUM INFO:
Overview: In theory, forming a rock group seems like a no brain'er. Get a group of musicians who have a shared love of certain bands and who can get along with each other for at least an hour. Hell, sometimes they don't even have to be musicians (especially if you're looking at the Top 40 charts). But in reality, it's a lot tougher, as the essential ingredient? What makes the group truly unique and
memorable – is something that can't be defined, learned, or bought. Call it talent, magic, or whatever you want, but Greenleaf's got it. A super group of the underground rock scene, the band was formed sometime in late 1999/early 2000 by guitarist Tommi Holappa (Dozer), drummer Daniel Liden (Demon Cleaner and the drummer on DOZER's "Through the Eyes of Heathens," and currently in AND The Machine Said Behold!), and engineer/ bassist Bengt Bäcke.
Featuring a revolving cast of fellow musicians who share a love of heavy fuzz rock, including Fredrik Nordin (Dozer), and Peder Bergstrand (Lowrider), Greenleaf has consistently defined what rock 'n' roll was, is, and should be. You put 2001's "Revolution Rock", 2003's "Secret Alphabets" and 2007's "Agents Of Ahriman" on and you're going to have a hard time taking them off. The band cooks, because they've got that special ingredient. It's time to rejoice, because Greenleaf is back with "Nest Of Vipers." Like their past releases, "Vipers" is a righteous kick in the ass and a testament to the almighty riff. This time, Tommi and Bengt are joined by Oskar Cedermalm (Truckfighters) on vocals, Olle Mårthans (Dozer) on drums, Johan Rockner (Dozer) on guitar, and a handful of guest appearances. This new lineup keeps Greenleaf moving forward without losing track of what made them great in the first place. Take note – this is what rock bands should sound like. Make way for the "Nest of Vipers."

Released 10 June 2007
Tommi Holappa: Guitars
Bengt Bäcke: Bass
Erik Bäckwall: Drums
Oskar Cedermalm: Vocals
Peder Bergstrand: Vocals (Black Tar)
John Hermansen: Vocals (Ride Another Highway)
Jocke Åhslund: Hammond
John Hoyles: Guitar Solo (Highway Officer)
Linus Arnberg: Mumblin' man (Treehorn) and Cowbell (Stray Bullit Woman)
Emil Leo: And Now What?!
Produced and mixed by Bengt Bäcke & Tommi Holappa
Engineered by Bengt Bäcke
Mastered by Chris Goosman at Solid Sound – Ann Arbor, MI
Sleeve design, artwork and photos by Erik Bäckwall
Recorded at: Rockhouse Studios – Borlänge, Sweden
Additional Studios: Bombshelter – Örebro, Sweden & Grey Hate – Enköping, Sweden