SS-191 :: HAURUN – Wilting Within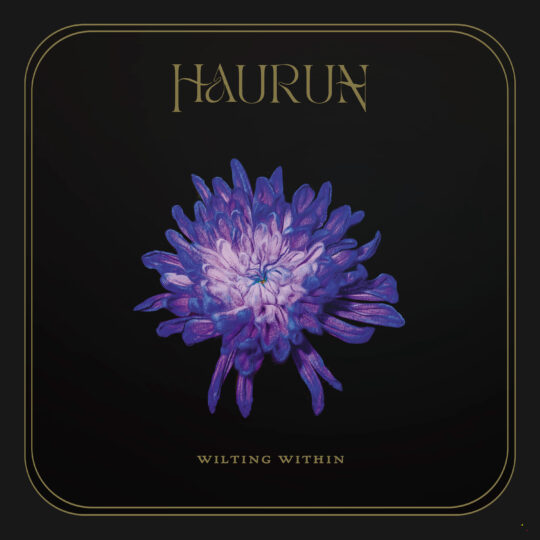 Label: Small Stone Records
Release date: September 22nd, 2023
Catalog number: SS-191
Track List
Abyss
Lost & Found
Tension
Flying Low
Lunar
Soil
Album Info
Born in Oakland, CA as the product of five musicians with a love of dark tones and psychedelia. Through the mysterious world of Craig's List, Joel Panton (guitar) and Eliot Rennie (drums) began writing music in 2018 with shared influences of Black Sabbath, Earth, and Kyuss. After a long and challenging search to find the right musicians, they banded together with Lyra Cruz (vocals), Daniel Schwiderski (guitar), and Joel Lacey (bass) to deliver a sound that's heavy whilst deeply emotive.
Emerging from the cloud of a covid pandemic, Haurun are releasing their debut album 'Wilting Within' for Small Stone Records. All tracks were recorded and engineered with the mighty Phil Becker (El Studio, SF) who captured the intensity and melodic soundscape of Haurun's live performance. Finishing it all off, Eric Hoegemeyer (Tree Laboratory, NY) and Chris Goosman (Baseline Audio, MI) worked their alchemical magic in mixing and mastering.
Wilting Within is a journey through layers of slow burning verses and expansive choruses, infused with the enchanting power of Lyra's vocals. Haurun transcends genres, blending the hypnotic riffs of doom metal and the gritty essence of grunge to deliver a fresh sound, casting psychedelic spells on the listener.
RIYL: Acid King, Windhand, YOB, King Buffalo, Emma Ruth Rundle
Credits
Haurun is:
Lyra Cruz: vocals
Joel Paul Lacey: bass
Daniel Schwiderski: guitar
Joel Panton: guitar
Eliot Rennie: drums
Produced by Haurun and Phil Becker.
Recorded and engineered by Phil Becker at El Studio, San Francisco, CA.
Mixed by Eric Hoegemeyer at Tree Laboratory, Brooklyn, NY.
Mastered by Chris Goosman at Baseline Audio Labs, Ann Arbor, MI.
Design and Artwork by Orion Landau.
All music by Haurun.
Lyrics by Lyra Cruz.
Published by SH Small Stone Music (BMI).