ANTLER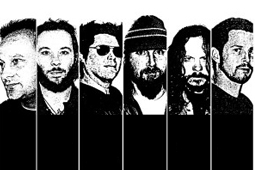 Biography
Born under a bad sign in the waning months of 2002, Antler is the newest addition to the Small Stone stable. Steeped in classic rock heritage, their rustic eloquence is gleaned from oily rags and dented chrome; from empty bottles and dingy motel rooms. Their six-man roster and blue-collar soul are throwbacks to the nights when Skynyrd and the Allmans took over the Fillmore 'cause they needed the legroom, when Fogerty's giants still did cartwheels, and a killing moon hung low in the horizon.
The members of Antler possess both the road-warrior pedigree (3/4's of the mighty Roadsaw are in Antler) and sonic wherewithal of true rock champions-and, as such, deliver an album devoid of crass, retrograde romanticism. Dark lyricism, rough & tumble twin guitars, weeping organ riffs, and whiskey-throated vocals lock together like the callused fingers of a hangman's fist lowering the noose over the throat of the condemned. And you'll find no shortage of rope here. Antler's dusty tales of bad luck, hard times, and love gone wrong are like dead letters stranded in the stony depths of an abandoned post office-the kind of forgotten missives upon which futures rested and old debts were meant to be settled.
Of course, the vagaries of what could have been are best left to professionals. But history, they say, is doomed to repeat itself. 'Til then, Antler will wander the woods at night, gun in hand, whistling a familiar tune.
"Antler find their creative core in grizzly bad- moon-rising country mode. They've got a seasoned line up that can detonate serrated guitar rave ups or settle into organ drenched soul tunes about graveyards and ashtrays, and they're without affectation whether they're exposing the missing links between My Morning Jacket and The Black Crowes or imagining, on their "Dig Your Own Hole", a Kyuss tune played by Calexico." – Carly Carioli – The Boston Phoenix Feb. 20, 2004