BOTTOM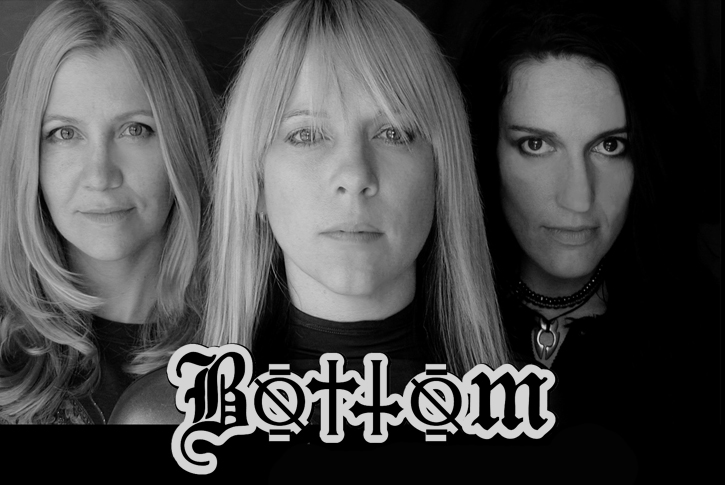 Biography
p from the fiery bottom of New York City's Lower East Side, sexier than Satan himself, the all-femme rock-outfit BOTTOM continues to raise hell. Lead by three siren mosh-heads, BOTTOM is volume drenched metal built on a foundation of riff and heavy groove.
BOTTOM's second long player, "Feels So Good When You're Gone," was produced by studio guru Billy Anderson (Mr. Bungle, Neurosis, Sleep). After the fall of Mans Ruin Records, "Feels So" is proudly being re-issued by the band on Rise Above Records. Spinning a sinister tale in a glamorous landscape of the Apocalypse, "Feels so Good when You're Gone" is thick with monster riffs, killer hooks and guaranteed to simultaneously make your ears bleed and your doomed heart leap with joy.
BOTTOM's debut album, "Made in Voyage," was recorded in NYC, produced by Greg Gordon (engineer for Slayer, Helmet, and Public Enemy) and released in 1999 on the band's label Mudflap Records.
BOTTOM first escaped from New York City in April 1999, carving out a new world order for self-sufficient DIY touring bands: living in their van, playing 300 shows a year, taking no prisoners, and destroying a new town every night. Notorious road queens, BOTTOM spent the summer of 2001 cranking out a daily double-header with a crushing 70 shows in 40 odd days schedule: tearing up the Vans' WARPed Tour by day and headlining at their club tour by night.
BOTTOM's explosive live show has provided them billings with national acts such as: AFI, AlienAntFarm, Backyard Babies, BellRays, Blessing the Hogs, Buzzov*en, Buckcherry, Cannibal Corps, Candy Snatchers, Crisis, Cosmic Psychos, Electric Wizard, The Fall, Everlast, Drivin'n'Cryin', H2O, Hank Williams Jr. III, Heroine Sheiks, High On Fire, HonkyToast, Joey Ramone and the Independents, Leadfoot, Lenny Kaye, Lunachicks, Nashville Pussy, Nile, Mike Watt, Misfits, Murphy's Law, Raging Slab, Rancid, Rollins Band, Speedealer, Spirit Caravan, Suicide Kings, Step Kings, 60 Watt Shaman, 311, Toilet Boys, Trouble, and The Voluptuous Horror of Karen Black.
BOTTOM proudly smashes, blows up, breaks, and explodes: Gibson, Fodera, Esh, and Ampeg.
Copyright© Small Stone Recordings
Booking
Agency: BOTTOM BOOKING
Email: sina@bottomrocks.com
The artist
Nationality: U.S.A
Resident in: New York