LUDER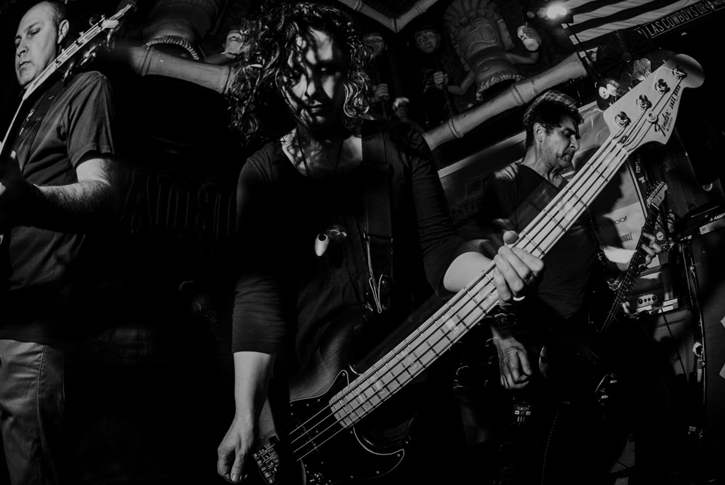 Biography
Luder is:
Sue Lott: bass and vox
Eric Miller: drums and percussion
Phil Dürr: guitar and leads
Scott Hamilton: guitar and effects
Adelphophagia is their second album.
The title of Luder's 2009 debut, Sonoluminescence, referred to sound waves reacting on passing through a substance to create light — sort of a long way around to expressing the illumination the four players felt came through their collaborating, but fitting.
Progressive, psychedelic, stylistically intricate, the album was recorded and mixed by Eric Hoegemeyer at Rustbelt Studios and mastered by Chris Gooseman. Comprising 10 songs that effectively blended Luder's diverse influences, tracks flowed seamlessly from driving dark prog to languid shoegazing, bassist Sue Lott's vocals tying pieces together with the apparent effortlessness of a virtuoso.
So it is four years later, on Luder's follow-up, Adelphophagia. Another research-worthy title – this one relating to the phenomenon of one embryo consuming another in utero – and another deeply varied collection of textural, smooth, frequently heavy rock and roll that has as much in common with Portishead as it does with Black Sabbath.
Sue, Phil, Scott and Eric once again recorded with Hoegemeyer (who also contributes piano, backing vocals, percussion, etc.), and as well as boldly taking on David Bowie's 1997 single, "I'm Afraid of Americans," the album pushes Luder's creative breadth further; new, dominant ideas and methods consuming others over a years-long writing period to become the expansive scope of "Dirge" or the grunge-y attitude-drenched kissoff "Never Liked You." Luder find room to balance their love of classic prog in "KrautJam" with an organic songwriting sensibility – the sweet melodies of its chorus are as memorable as they are exploding with color.
Shows are sporadic, but Luder has shared the stage with Kyuss Lives!, Fu Manchu, Lo-Pan, Freedom Hawk, Lord Fowl, Suplecs, Dixie Witch, House of Broken Promises, Gozu and many others. As Luder come into their own on Adelphophagia, look to catch them on stage periodically and expect to be consumed by their warm and eerily welcome wash.
Press Says:
"Luder are such a potent chemical made up of many elements most of which can be found in the half-light of pop, alternative, trip-hop and of course – the reason why we're all gathered here today – metal." – Uber Rock
"Most people will not be expecting an album that, not only sounds like nothing else on the Small Stone roster but is literally incredible from the first note to the last… As sonically diverse and experimental as this album can be at times at its core lies a strong collection of very catchy, memorable and frankly awesome tunes." – The Sleeping Shaman
"The members of Luder unfurl just enough unorthodox elements from their separate prior musical paths to give those templates some distinction, including classic, psychedelic, and stoner rock elements, metallic riff worship, and even a discreet power pop undercurrent that alleviates the exquisite torment of it all…" – All Music Guide
Copyright© Small Stone Recordings
Booking
Agency: LUDER
Email: info@luderband.com
The artist
Nationality: U.S.A
Resident in: Detroit,