SS-142 :: LUDER – Adelphophagia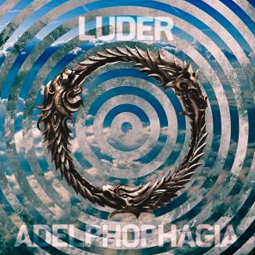 Label: Small Stone Records
Release date: Octobe 8th, 2013
Catalog number: SS-142
TRACK LIST
1. Never Liked You
2. Astrolabe
3. One Eye
4. Heartfelt
5. Ask The Sky
6. You Try It
7. Dirge
8. I'm Afraid Of Americans
9. Remember What I Said
ALBUM INFO:
The title of Luder's 2009 debut, Sonoluminescence (released on Small Stone), referred to sound waves reacting on passing through a substance to create light — sort of a long way around to expressing the illumination the four players felt came through their collaborating, but fitting.
Progressive, psychedelic, stylistically intricate, the album was recorded and mixed by Eric Hoegemeyer at Rustbelt Studios and mastered by Chris Gooseman. Comprising 10 songs that effectively blended Luder's diverse influences, tracks flowed seamlessly from driving dark prog to languid shoegazing, bassist Sue Lott's vocals tying pieces together with the apparent effortlessness of a virtuoso.
So it is four years later, on Luder's follow-up, Adelphophagia. Another research-worthy title – this one relating to the phenomenon of one embryo consuming another in utero – and another deeply varied collection of textural, smooth, frequently heavy rock and roll that has as much in common with Portishead as it does with Black Sabbath.
Sue, Phil, Scott and Eric once again recorded with Hoegemeyer (who also contributes piano, backing vocals, percussion, etc.), and as well as boldly taking on David Bowie's 1997 single, "I'm Afraid of Americans," the album pushes Luder's creative breadth further; new, dominant ideas and methods consuming others over a years-long writing period to become the expansive scope of "Dirge" or the grunge-y attitude-drenched kissoff "Never Liked You." Luder find room to balance their love of classic prog in "KrautJam" with an organic songwriting sensibility – the sweet melodies of its chorus are as memorable as they are exploding with color.
Shows are sporadic, but Luder has shared the stage with Kyuss Lives!, Fu Manchu, Lo-Pan, Freedom Hawk, Lord Fowl, Suplecs, Dixie Witch, House of Broken Promises, Gozu and many others. As Luder come into their own on Adelphophagia, look to catch them on stage periodically and expect to be consumed by their warm and eerily welcome wash.
Credits
Luder is:
Eric Miller: drums & percussion
Sue Lott: bass & vox
Phil Dürr: guitars & leads
Scott Hamilton: guitars & effects
Additional Players:
Eric Hoegemeyer: piano, backing vox, percussion, sounds
Matthew Richards: backing vocals and other noises
Produced by Eric Hoegemeyer and Luder .
Recorded and engineered by Eric Hoegemeyer, Steve Lehane, and Alex Kaye.
Recorded at Rust Belt Studios – Royal Oak, MI.
Vocals recorded and engineered by Clyde Wilson at Mount Doom Studio – Warren, MI.
Mixed by Eric Hoegemeyer at Tree Laboratory – Brooklyn, NY.
Mastered by Chris Goosman at Baseline Audio – Ann Arbor, MI.
Art by Matthew Richards and Sue Lott (mochimad.com).
Photography by Matthew Richards and Sue Lott.
Lighting assistance by Rich Watson (digitalfarm.net).
Textiles by The T-Shirt Guy – Warren, MI.
All songs written by Luder, except "I'm Afraid Of Americans" written by David Bowie, Brian Eno, published by TINTORETTO MUSIC / UPALA MUSIC INC (BMI).
Published by Small Stone Records (ASCAP).