SS-100 :: LUDER – Sonoluminescence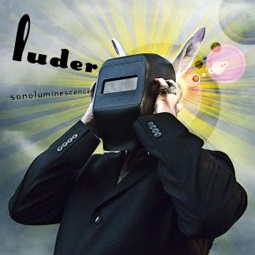 Label: Small Stone Records
Release date: 2009
Catalog number: SS-100/2009
TRACKLIST:
1. Sing To Me 04:19
2. S-Words 07:22
3. Selfish and Dumb 05:44
4. Cold Hands, Warm Pants 07:28
5. Hot, Girl-On-Girl, Vampire Action 08:07
6. In Love With Love 07:26
7. The Pox 06:24
8. Points West 05:04
9. Sewn Together 06:40
10. Soledad y Onanismo 06:17
REVIEWS:
"Luder have certainly got grooves aplenty and manage to successfully connect the more alternative end of the Indie scale with guitar-heavy metal. So with such great riffs and grooves surely the deciding factor will be whether you like this particular dreamy vocal style. And for that I hand Luder over to you." UBERROCK
"Luder's 2009 debut album, Sonoluminescence, takes you back to the oh-so-long-ago of, what, 1994 or so? Yes, it's difficult to believe that it's been that long already. But the alternative metal and shoegaze sounds emanating from Sonoluminescence's grooves evoke instant Technicolor flashbacks (well, tones of gray Technicolor, anyway) to that mid-'90s sonic aesthetic — as dated, yet as comfortable, as that grungy old Cardigan sweater you wore against your mother's protestations, until the very last string unraveled like some vision preordained in that damn Weezer song! But primarily, it's the confluence of Sue Slot's dreamy, haunting whispers and her bandmates' droning, angst-ridden darkness that breeds this familiarity, epitomized by tracks like "Selfish and Dumb," "The Pox," and particularly "S-Words," which sets progesterone-fueled Alice in Chains vocal harmonies against a circular riff backdrop direct from the Jane's Addiction toolkit. Evident influences aside, though, the members of Luder unfurl just enough unorthodox elements from their separate prior musical paths to give those templates some distinction, including classic, psychedelic, and stoner rock elements, metallic riff worship, and even a discreet power pop undercurrent that alleviates the exquisite torment of it all right about when you're reaching for the skip button (cue the gloriously depressing "Sewn Together"). For example, one of the more interesting songs, the amusingly named "Hot, Girl-on-Girl, Vampire Action," drones on forebodingly for much of its lysergic eight minutes, but unexpectedly breaks out into a bouncy pop-punk midsection that feels as though it were painfully grafted on. "In Love with Love" also picks up the pace when you most needed it to, and the closing enigma of "Soledad y Onaismo" (err, "Solitude and Masturbation"?) travels a daunting road from its sparse acoustic beginnings to its Tool-like post-metal apocalypse (by way of a Sabians guitar solo — look that one up!). In sum, as exercises in nostalgia go, Luder's Sonoluminescence feels pretty darn welcome when all is said and done, and it makes for a rather unrepresentative but memorable choice to serve as the Small Stone label's celebratory 100th release (owner Scott Hamilton is also one of Luder's two guitarists), which is no mean feat in today's troubled music industry." ALLMUSIC
ALBUM INFO:
Sonoluminescence – 'luminescence excited in a substance by the passage of sound waves through it.'
The formation of Luder harkens back to 2006, when Small Stone Records undertook the task of issuing the lost recordings of a band called Slot after the untimely passing of its founding member and guitarist, Billy Rivkin. After the successful completion of this project, it was decided by the powers that be that some semblance of the band should play at SXSW the following spring. So it was that Sue Lott (Slot's bassist) and Eddie Alterman (Slot's drummer) were joined on guitars by Phil Dürr (Big Chief, Giant Brain, Five Horse Johnson) and Small Stone head-honcho Scott Hamilton to pull off such a thing. The thinking was that it would take two guitar players to competently do what Billy did on his own.
After a successful SXSW show in the spring of 2007, Followed by a hometown show at the Magic Stick, Sue, Phil and Scott decided it might be worthwhile and fun to continue playing and writing music, perhaps under a different moniker. Eddie being mostly unavailable due to laboral commitments, they humbly asked ex-Novadriver drummer (and, as with Phil, current Five Horse Johnson member) Eric Miller to join and soon started doing that thing that the kids call "jamming." At first, the quartet got together mostly to keep their chops up, jamming on quasi-Krautrock riffs a few nights a week. Eventually, as everyone got comfortable with each others' playing styles, they started writing songs for real, honing the ad-libbed riffs into songs, making music that none of them would be able to write in any other band. Luder set out to make obstinate music, or as Sue likes to say, "music I like." A new idea was hatched, a new band was born, and a new name was chosen; ergo: Luder.
Luder seamlessly incorporates all the influences of the individual band members and their musical histories into a coherent whole. When Eric and Phil bring elements of Stoner Rock, Sue might counter them with an almost jazzy bass line. Scott might pitch a decidedly shoegazery melody line, Phil may react by channeling his inner metal-head. When Sue comes to the table with a decidedly ambient bass line, the other three might add any and all types of raucous, multi-genre-ic sounds. If Phil's hispanophilia threatens to get out of hand, Eric may throw in an absolutely tribal drumbeat. Now, add a pinch of humor to the mix, and it all combines to give Luder's music that certain out-of-left-field-je-ne-sais-quoi that adds up to a band that in the end sounds like no other. Then you bring Sue's ethereal vocal stylings into the picture, and you makes for quite a spicy stew. Luder's songs have been described as "disturbingly peaceful," "peacefully disturbing," and "in need of editing" (to which they gleefully and politely say "no, thank you" and "up yours" in unison).
As the a result of staying true to their musical passions and influences, not to mention running up a rather hefty electrical bill in Sue's basement, the debut album from Luder, 'Sonoluminescence' was etched out in the dwelling that was once known to insiders as The Slot House. Recorded at Rustbelt Studios with Eric Hoegemeyer (Giant Brain, Deep See Sound System) on the dials over the course of six months whenever all parties could meet, Sonoluminescence is a very organic and dynamic, an orgasmic whirlwind of Rock Recording. Luder's debut is sure to turn a few heads, cause a spit-take or two, and clean out a few eardrums in the process. Hell… you might even catch them live if the guarantee is right and there happen to be any baby- and dogsitters available to work that particular night…
For fans of: Slot, Giant Brain, The Birthday Party, Soundgarden, Queens Of The Stone Age, Tool, Clutch, Curve, Portishead, The Verve, Polar Bear, and an ass load of other like-minded bands from the 70s, 80s, and early 90s.
credits


Released 10 November 2009
Luder is:
Eric Miller: Drums & Percussion
Sue Lott: Bass & Vox
Phil Dürr: Guitars & Things
Scott Hamilton: Guitars & Too Many Effect Pedals
Additional Players:
Eric Hoegemeyer: Piano, Backing Vox, Percussion, Sounds
Vince Williams: Backing Vox, Screaming
Richard Watson: Backing Vox
Marshall Oliver: Backing Vox
Matthew Richards: Backing Vox
Recorded at Rustbelt Studios – Royal Oak, MI.
Recorded, Engineered, Mixed and Manipulated by Eric Hoegemeyer.
Produced by Eric Hoegemeyer and Luder.
Mastered by Chris Goosman at Baseline Audio – Ann Arbor, MI.
Artwork by Sue Lott & Matthew Richards at MOCHIMAD.
Textiles by The T-Shirt Guy – Roseville, MI.
All the tracks written by: Sue Lott, Eric Miller, Phil Dürr, Scott Hamilton, Eric Hoegemeyer.