LO-PAN announce US + European Tour Dates In Support Of "Colossus"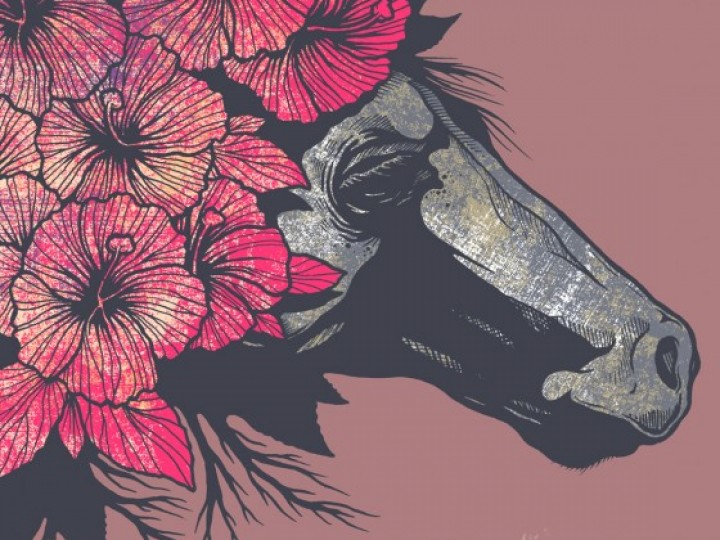 Ohio riff dealers, LO-PAN, will take to the streets next month on a near two-week Northeastern run of live dates. Kicking off on March 12th in Detroit, Michigan at Berserker II alongside Poison Idea, Iron Reagan, Incantation, Full Of Hell and many others, the NxNe Tour 2015 will trounce eleven cities, coming to a close on March 22nd in Columbus, Ohio. The band will be joined by Detroit rockers, Against The Grain. From there LO-PAN will take a short breather before crossing the Atlantic for a European expedition that will see the band level the stage of Roadburn, Desert Fest, Asymmetry Fest and more with psyche peddlers, Abrahma, and psychedelic war metallers, Black Pyramid, sharing the stage on select dates.
LO-PAN will be touring in support of their critically heralded Colossus long player, released last Fall via Small Stone. Produced and engineered by Andrew Schneider (Unsane, Rosetta, East Of The Wall et al) at his own Translator Audio Studio in Brooklyn, New York and named for an ancient statue of the Greek titan-god of the sun, Helios, the record continues to raise the eyebrows of fans and media globally.
Sputnik Music dubs Colossus, "an essential heavy rock album," further enthusing, "The ultra-heavy fourth album of Columbus luminaries LO-PAN certainly lives up to its title, bludgeoning the listener with a cavalcade of gargantuan riffs from the ground up… the quartet tread a fine line between the technicality of Tool and the sheer riff-power of Swedish stoner rock heavyweights Dozer, while succumbing to both bands' penchant for infectious motifs." Verbicide opined, "Not only do they bring the rock to the world of stoner rock, they are also master craftsmen, knowing how to write classic-sounding tunes," while Hellride notes, "Like the real-life manifestations of the album's title, LO-PAN are giants walking the earth and Colossus will leave a heavy footprint in the mind of anyone who hears it. Rarely will getting stepped on sound so good." Elsewhere the feelings ricochet. The Sleeping Shaman calls Colossus, "a fantastic album," asserting, "if you're into powerful, driving, stoner influenced heavy rock that is big on riffs and melodies and gut punching grooves then this album will thrill you," Rockandrollfables.com gushes, "If Torche and Roadsaw had a baby, the resulting bouncing baby boy would be Ohio's LO-PAN. Take those sludgy riffs and clean vocals that bring to mind Roadsaw's Craig Riggs and you have the recipe for something great…a monumentally monolithic masterpiece from start to finish," while The Obelisk notes, "…where their last full-length, 2011′s Salvador, was a pinnacle for their songwriting's blend of fluid groove, soulful vocals and memorable tracks, Colossus reaps the reward of all their touring in pushing LO-PAN's methods even further. So it's a meaner, more precise LO-PAN this time around."
LO-PAN NxNe Tour 2015 w/ Against The Grain:
3/12/2015 The Loving Touch – Berserker II – Detroit, MI [info]
3/13/2015 Grog Shop – Cleveland, OH
3/14/2015 The Lost Horizon – Syracuse, NY
3/15/2015 TT The Bear's – Boston, MA
3/16/2015 Wonder Bar – Asbury Park, NJ
3/17/2015 The Depot – York, PA
3/18/2015 Saint Vitus – Brooklyn, NY
3/19/2015 Kung Fu Necktie – Philadelphia, PA
3/20/2015 The Pinch – Washington, DC
3/21/2015 31st Street Pub – Pittsburgh, PA
3/22/2015 Spacebar – Columbus, OH
w/ Abrahma:
4/09/2015 Mudd Club – Strasbourg, FR
4/10/2015 Paunchy Cats – Lichtenfels, DE
4/11/2015 Rare Guitar – Munster, DE
4/12/2015 Roadburn – Tilburg, NL
4/14/2015 Black Sheep – Montepellier, FR
4/15/2015 Maravillas Club – Madrid, SP
4/16/2015 Rocksound – Barcelona, SP
4/17/2015 Helldorado – Vitoria, SP
4/18/2015 Le Volume – Nice, FR
4/19/2015 TBA – IT
4/20/2015 Altraquando Club – Zero Baranco, IT
4/21/2015 Orange House – Munich, DE
w/ Black Pyramid:
4/23/2015 Desertfest – Berlin, DE
4/24/2015 Romer – Bremen, DE
4/25/2015 Desertfest – London, UK
4/28/2015 Sedel – Lucerne, CH
4/2/20159 Gaswerk – Winterthur, CH
4/30/2015 Das Bett – Frankfurt, DE
5/01/2015 Schaubude – Kiel, DE
5/02/2015 Asymmetry Fest – Wroclaw, PL
Source: EARSPLIT PR
9 February 2015 SSR HQ LO-PAN Tour