SS-037 :: DIXIE WITCH – One Bird Two Stones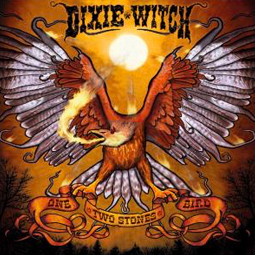 Label: Small Stone Records
Release date: June 22nd, 2003
Catalog number: SS-037
Track List
1. Get Busy
2. Going South
3. More Of A Woman
4. The Wheel
5. On My Way
6. Drifting Lady
7. Makes Me Crazy
8. Turbo Wing
9. Here Today Gone Tomorrow
10. Traveler
Album Info
Heavier than a throng of truckers coming out of a three-hour chow-down at Hometown Buffet, this crushing juggernaut of a record is neo-Southern rock at its finest. Though comparisons to peers like Halfway to Gone and Fireball Ministry are sure to be made, there's no question that this band of Texans is deeply entrenched in the tradition of Grand Funk Railroad and Lynyrd Skynyrd. Though produced by one-time Butthole Surfer Jefferson D. Pinkus (who lends his pipes on "Here Today Gone Tomorrow"), there's not a trace of the Surfers' zany or noisy tendencies here, this is straight-forward, hard-rock, the kind that shuns gimmicks and tricks of any sort. Dixie Witch makes brutal and brutally honest-barroom-brawl music. Certainly not for the faint of heart… – Big Takeover Magazine

credits
Dixie Witch is:
Clayton Mills: guitar
Trinidad Leal: drums, vocals
Curt Christenson: bass
Produced by JD Pinkus.
Recorded and Mixed at Echo Lab Studios – Argyle, TX.
Engineered by Todd Dillon.
Hospitality by Lee & Shelly.
Dedicated to "Hansome" Joel Svatek.
Mastered by Chris Gooseman at Solid Sound – Ann Arbor, MI.
Design and Layout by Mike Saputo.
All songs written by Dixie Witch .