SS-056 :: HONKY – Balls Out Inn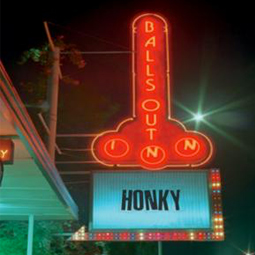 Label: Small Stone Records
Release date: August 30th, 2005
Catalog number: SS-056
TRACK LIST
1. Love to Smoke Your Weed
2. Gittin' It
3. Balls Out Inn
4. Trespassin'
5. Good Pipe
6. Walkin' on Moonshine
7. Broken Days and Endless Nights
8. Undertaker
9. Looking Green
10. Plugs, Mugs, and Jugs
11. Bucklebunny
12. White Knuckle Pass
13. I Like the Way You Have Fun
ALBUM INFO
OK, when you think of Texas, what comes to mind? Most people think of big things: big deserts, big ol'cars, big Blues, big titties, etc… We, on the other hand, like to think of Texans as a bit skewed. They do, after all, refer to the State as a Republic, fer chrissakes. Remember the Butthole Surfers, the Dicks, Scratch Acid… fuck it, for that matter… ZZ Top? Point is, so do Honky… and more, they've been warping our vision of Texas for years now. Honky's first record for Small Stone, Balls Out Inn, is the best sonic representation of this twisted Austin trio to date. Led by ex-Butthole SurferJ.D. Pinkus, with Bobby Ed Landgraf (Godzilla Motor Company, Blowfly) and Kenny Wagner (Sixty Watt Shaman, Halfway To Gone), this album takes you back to the time when it actually meant something to make a great record. Gordie Johnson of Big Sugar makes a guest appearance and adds to the Texas-Twist with some sweet, sweet guest slide and acoustic guitars.
After eight years, three releases, dozens of tours with everyone from Mudhoney to Fu Manchu to Nashville Pussy, Honky–like some kind of Texan uberpimp– has turned out what may be the best "Texas Super Boogie" ever cut to tape, wax, CD… what have you. With two tours already in the works to support this release and two videos and singles which will be sent out to national radio, Honky is poised to take their rightful place on the throne as the real successors to ZZ Top, Mountain, the Rev. Horton Heat, and all things Texan. Stamp Balls Out Inn B.C. approved!
"The arrival of Honky comes as a welcome slap in the face of canned music and its robotic consumers. This messed-up, tore-down Texas trio churns out a marvelously basic, dirty, stoner-rock grind, all industrial- strength riffs and delightfully sleaze-slanted lyrics… Honky's dog-eared, dopey brand of rock atmospherics is a propitious reminder of how forceful a simple dose of regressive, scabby rock & roll can be." – L.A. Times
Credits
Honky is:
J.D. Pinkus: bass, banjo, & neckhole
Bobby Ed landgraf: guitar & neckhole
Kenny Wagner: drums & percussion
Additional Players:
Gordie: slide solo on (1), acoustic on (6) & (13)
Rae Craig: vocals on (2) & (7)
Ezra Reynolds: Hammond B3 & Leslie on (7)
Produced by J.D. Pinkus.
Sound Consultant: Gordie Johnson.
Engineer: John Harvey.
Assistant Engineer: Mary Podio Harvey.
Recorded & Mixed @ Tophat Recording Studio/ Austin, TX.
Massturd By Chris Goosman @ Solid Sound/ Ann Arbor, MI.
Art & Design By Jared Connor.