SS-139 :: SUPERMACHINE – S/T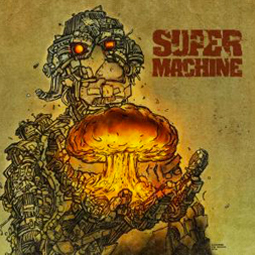 Label: Small Stone Records
Release date: 2013
Catalog number: SS-139/2013
TRACKLIST:
1. Solution 04:02
2. Broken 03:40
3. Transformer 03:06
4. MT 03:25
5. Josey Wales 04:08
6. Flesh Farm 03:52
7. Buffalo 04:02
8. Pill Cruise 03:11
9. Crutch 04:09
10. Heavy Bullet 04:23
11. Warlord 03:35
REVIEWS:
" …Supermachine are one band fans of stoner rock and metal should keep an eye on, as they have a fair amount of potential that needs to be exploited in the future. Meanwhile, everyone should give the record a spin, it deserves it." SPUTNIK MUSIC
"SUPERMACHINE is exactly as the name describes. This is a band of extremely talented guys playing a style of hard rock and groove metal that will have you moving in your chair. The songs are catchy as hell while still maintaining the huge groove they are built around.
I would highly recommend this to anyone that like a good, heavy, groove laden rock affair. I hope to hear lots more from these guys. " METAL-TEMPLE
ALBUM INFO:
In a tucked away forgotten tank factory in Southern New Hampshire – amidst a flurry of flying electrical sparks, and ungoverned volume knobs – Supermachine started to coalesce and take shape. Constructed from pieces brought back from the scrap heap, along with the acquisition of a newly added component to front the whole of the creation… the band has finally emerged and is now ready to take on the future. Lead with sludge-heavy hook laden riffs, monstrous stoic bass lines – that will not only loosen your fillings but might even cause a cavity or two – drums that will fill every pocket of that 70's 3 piece leisure suit, and vocals that soar with melody and grit… Supermachine is in fact, a super machine.
With members that have an already established, built-in interwoven history, there is immediate chemistry between the entirety of the unit. Jay Fortin (Guitars), and Paul Jarvis (Bass), are both founding members of the band Scissorfight – though their history begins long before and continues on after that behemoth of a musical force emblazoned its sound in the cerebral caverns of all humanity. The connection these two share along with the bond they have with Mike "Mick" McNeil (Drums) who played with the two of them in Hemicuda – a precursor to Scissorfight – begins to describe a solid cohesive unit within the working loins of the Supermachine. The latest, and final piece of the band is fire-slingin' vocalist David Nebbia. Nebbia comes into the fold after a chance encounter via email with Jay, where he inquired about the acquisition of some leather cuffs (don't ask). The transaction also introduced the notion of Nebbia showing up to the tank factory to try his hand at fronting the newly established vehicle. The rest is for the world to witness. If you haven't seen them yet, it's only a matter of time before you hear them coming…

Released 14 May 2013
Supermachine is:
Paul Jarvis: Bass
Mike McNeil: Drums
Jay Fortin: Guitar
David Nebbia: Vocals
Recorded and Produced by Benny Grotto and SUPERMACHINE at Mad Oak – Allston, MA.
Assistant Engineer Young Thayer.
Mixed by Benny Grotto at Mad Oak Studios – Allston, MA.
Mastered by Chris Goosman at Baseline Audio Labs – Ann Arbor, MI.
Album Artwork and Design by Alexander von Wieding, www.zeichentier.com.
Executive Producer: Scott Hamilton.
Published by Small Stone Records (ASCAP).
All songs written by SUPERMACHINE.