SS-153 :: ABRAHMA – Reflections In The Bowels Of A Bird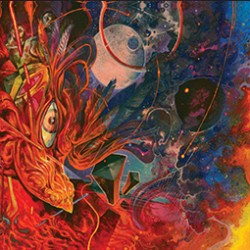 Label: Small Stone Records
Release date: May 12th, 2015
Catalog number: SS-153
TRACK LIST
1. Fountains Of Vengeance
2. An Offspring To The Wolves
3. Omens Pt. 1
4. Weary Statues
5. Omens Pt. 2
6. Kapal Kriya
7. Square The Circle
8. Omens Pt. 3
9. A Shepherd's Grief
10. Conium
ALBUM INFO
The quizzically-titled Reflections in the Bowels of a Bird arrives to further the sense of ritual in ABRAHMA's sound. Songs heave with psychedelic fervor but also dig deeper into an influence from the early '90s Seattle rock scene, groups like Soundgarden and Alice in Chains. One can hear their impact in the slow roll of a song like "An Offspring to the Wolves," while elsewhere, "Omens Pt. 3" opens up to spacious riffing and a tripped-out feel. What makes ABRAHMA work so well, though, is that no matter where they go sound-wise, they never lose sight of their songwriting, guitarist/vocalist Seb Bismuth, guitarist Nicolas Heller, bassist Guillaume Colin and drummer Benjamin Colin making memorable, structured material out of an ether of effects swirl and echo.
Credits
Abrahma is:
Sebastien Bismuth: vocals, guitars, effects & keyboards
Nicolas Heller: guitars
Guillaume Colin: Bass guitar
Benjamin Colin: drums
Additional Musicians:
Ed Mundell: guitar solos on "A Shepherd's Grief"
Vincent Dupuy: saxophone on "Omens Pt. 2"
All Music written by Abrahma
All Lyrics written by Sebastien Bismuth
Published by Small Stone Records (ASCAP)
Recorded by Benjamin Colin at Hakesound Studios, Romainville (France).
Produced by Abrahma & Thomas Bellier.
Mixed by Eric Hoegemeyer at Tree Laboratory, Brooklyn, NY (USA) except Conium, mixed by Benjamin Colin at Hakesound Studio, Romainville (France)
Mastered by Chris Goosman at Baseline Audio Labs, Ann Arbor, MI (USA).
Album Artwork & Design by Jalón de Aquiles
enjalonate.blogspot.fr