ABRAHMA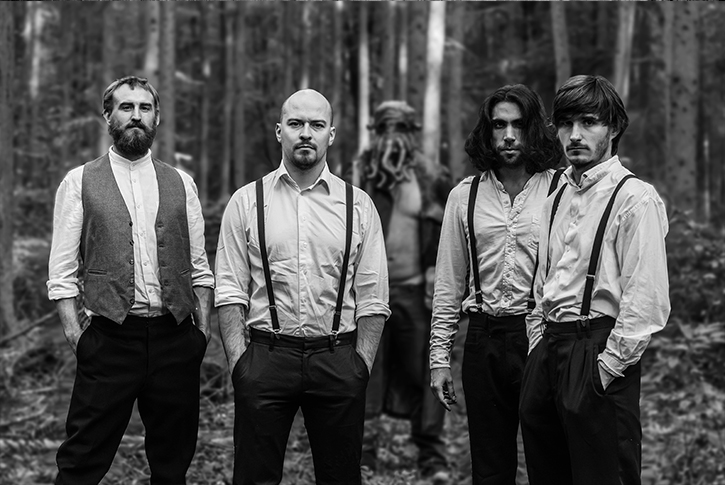 Biography
Just the name Paris evokes thoughts of romance. From tiny streetside cafes serving cafe au lait and fresh croissants to the breathtaking panoramic view as seen from atop the Eiffel Tower, the city simply oozes love. Thankfully the city of love also has a darker side. One just as dedicated to love, just love of a different kind. Love of all things heavy and all things rock. And that's the real Paris the one where Abrahma lives.
Formed in 2005 under the moniker Alcohsonic, this Parisian quartet epitimized the ideals of Rock and Roll. Blending the classic American 70's sound with blues, southern roots and just a hint of the modern Seb Bismuth, Nicolas Heller and the brothers Colin attempted to set Europe on fire. Their flame burned hot but far too bright and after five years, one LP and a scathing trail of live shows sharing the stage with the likes of Brant Bjork and Cactus, their course was run. But like a pheonix rising from it's own ashes Alcohsonic has been reborn as Abrahma.
"Through The Dusty Paths Of Our Lives" is a self made monument to what might have been and an explosive first example what is yet to come. Five years on the road has hardened the sound and forged the new songs like iron in flame. Gone are any hints of 70's revivalism, buried beneath thick sludgy riffs and thundering basslines. Six hands play as one with the voice of an angry angel lighting the way. Featuring a guest appearance by Ed Mundell (Monster Magnet) and artwork designed by Alexander von Wieding "Through The Dusty Paths Of Our Lives" is a once in a lifetime debut. Catch a glimpse before the sparks begin to fly.
Booking
Agency: ABRAHMA
Phone: +33 00 658 315 610
Email: booking@abrahamamusic.net
The artist
Nationality: FR
Resident in: Paris