SS-154 :: FREEDOM HAWK – Into Your Mind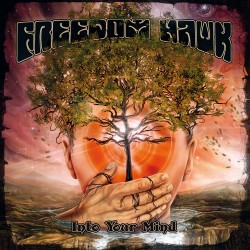 Label: Small Stone Records
Release date: June 6th, 2015
Catalog number: SS-154
TRACK LIST
1. Blood Red Sky
2. Journey Home
3. Lost In Space
4. On Your Knees
5. Waterfall
6. Radar
7. Beyond Our Reach
8. Into Your Mind
9. The Line
10. All Because Of You
ALBUM INFO
Emanating from the barrier dunes of Virginia, Freedom Hawk's heavy riffs, rolling groove, and soulful guitar melodies to produce a sound that is distinctly their own. The trio's brand of heavy rock capitalizes on the best of the heavy '70s, but presents a fuzzy take that's modern and based around quality songwriting rather than style-over-substance retro posturing.
Guitarist / vocalist T.R. Morton, bassist Mark Cave and drummer Lenny Hines made their debut on Small Stone with 2011's Holding On. The follow-up, and their fourth album overall, is Into Your Mind, which brings a new dynamic to their buttery fuzz with all the stomp and swagger one could ask for after Holding On, but with a more pointed delivery, assured and farther ranging than their last time out, grown more into their style than ever before.
Songs like "Journey Home", "Lost in Space" and "The Line" push the boundaries of what Freedom Hawk have previously accomplished sonically, bringing in elements of laid back psychedelia and space rock to the band's otherwise terrestrial song-craft. Veterans already of Roadburn in the Netherlands, Freedom Hawk return to Europe in support of Into Your Mind, playing Germany's Freak Valley Festival prior to the release with more live dates to follow as they continue to expand their reach both in terms of music and fan-base around the world.
For fans of: Clutch, Fu Manchu, Crobot, Black Sabbath, Grand Funk, Greenleaf, Lord Fowl, Gozu, Lo-Pan, ASG, and all things that Rawk
Credits
Freedom Hawk is:
TR Morton: guitas, keys, vox
Lenny Hines: drums
Mark Cave: bass
Recorded, mixed, and co-produced by Jim Woodling.
Recorded at Clay Garden Studios, Norfolk, VA.
Additonal recording at Lowder Sound, Newport News, VA.
Mastered by Chris Goosman @ Baseline Audio Labs, Ann Arbor, MI.
All music written/arranged by:
TR Morton, Lenny Hines, and Mark Cave.
Lyrics by TR Morton.
Additional writing contributions on guitar by Matt Cave for: Blood Red Sky, Journey Home, Waterfall, and Beyond our Reach.
Published by Small Stone Records (ASCAP)