SS-155 :: SNAIL – Feral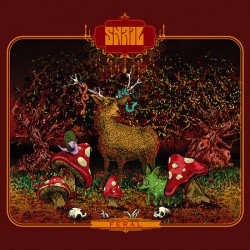 Label: Small Stone Records
Release date: September 25th, 2015
Catalog number: SS-155
TRACK LIST
1. Building A Haunted House
2. Smoke The Deathless
3. A Mustard Seed
4. Thou Art That
5. Born In Captivity
6. Derail
7. Psilocybe
8. Come Home
ALBUM INFO
THE LEGEND OF SNAIL
Snail formed in 1992 consisting of singer Mark Johnson (The Crucified, PASTE, Blessing the Hogs), bassist Matt Lynch and drummer Marty Dodson. The eponymous first album (Big Deal Records) garnered much praise in the press, and gained a loyal following from peers, leading to the DIY, 4-track cassette-recorded All Channels are Open EP, after which Snail sadly succumbed to the "sex, drugs, and rock and roll" lifestyle and eroded to the point of breaking up.
REIGN OF BLOOD
After 15 years' absence, Snail reunited in 2008 with longtime friend and guitarist Eric Clausen as a fourth member, and unleashed Blood (Meteor City), which was among the highest-rated heavy rock records of 2009, combining fuzzy guitars and a pummeling rhythm section with layered, soaring melodies rarely heard in the genre. In a time of industry turmoil, the record went from blood-red to "in the black," even attracting the attention of underground music legend Henry Rollins, who gave it multiple plays on his "Fanatics" radio show on influential Los Angeles station KCRW.
THE END IS THE BEGINNING
Snail's 2012 follow-up, Terminus, showcased all fresh material, infused with the enthusiasm of newly-minted collaboration. Influences that were not evident in past works came to the fore, steeped in old-school metal and psychedelia. The subject matter was noticeably more mature, delving into the themes of mortality and its implications in our modern world. From crushing doom to head-bobbing Camaro rock and hypnotic psych, Terminus was Snail's most varied work to date; but most importantly, it rocked.
INTO THE WILD
With the challenge of a "first new album" behind them, Snail set to work on Feral, their fourth full-length and first for Small Stone. Taking the varied approach of Terminus to new degrees of psychedelia and sonic heft, songs like "Smoke the Deathless" and "Thou Art That" epitomize the weighted melodic appeal of the band, while closer "Come Home" steps forward in its brazen emotionalism. Topped off with mind-bending artwork by Seldon Hunt, Feral is their best work to date, demonstrates the progressive capacity of the once-again trio of Johnson, Lynch and Dodson, and shows that Blood and Terminus may have just been the start of the wildness to come.
Credits
Snail is:
Mark Johnson: guitars, lead vocals, keys
Matt Lynch: bass, keys, vocals
Marty Dodson: drums, percussion, vocals
Additional Rhythm Guitar on "A Mustard Seed" by Eric Clausen.
All songs by Mark Johnson except "Thou Art That" by Lynch/Johnson and "Derail" by Lynch.
Recorded by Matt Lynch at Mysterious Mammal Recording, Los Angeles.
Additional vocal and guitar recording by Mark Johnson at home in Seattle.
Mixed and mastered by Matt Lynch.
Produced by Matt Lynch and Mark Johnson.
Cover Art by Seldon Hunt.
Band photo by Mark Abshire.