SS-168 :: MANGOO – The Heat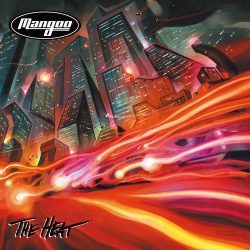 Label: Small Stone Records
Release date: December 8th, 2017
Catalog number: SS-168
Track List
1. Relief
2. Get Away
3. Beyond the Sky
4. Monolith
5. One Day
6. Deification
7. Tiembla 0
8. Stumbling Man
9. The Heat
10. Grey Belly
11. Party All the Time
Album Info
Yeah. You think you're ready for The Heat, but you're not.
Catchy hooks and sweet vocal harmonies are nothing new for Finnish rockers Mangoo. On the Turku-based outfit's third full-length, they come backed by a wall of thick, fuzz-fueled guitars and hard-hitting drums with an added sprinkling of analog synth sounds, combined they result in a sound truly the band's own – someplace between grunge, classic heavy rock and a progressive psychedelic spaciousness that refuses any and all boundaries of style between rock and metal and beyond.
Mangoo have been busting out the fuzz since 2005 when they released their untitled debut EP. Countless beers, shows and drummers later in 2009 the first full-length, Neolithic, was released on 7:45 Records. With a firm lineup of guitarist/vocalist Pickles, guitarist Mattarn, bassist Igor, drummer Teemu and keyboardist/noisemaker Nicke, they engage new expanses as they follow-up their 2012 Small Stone debut, Neverland, with the 11 songs of The Heat.
Mega-choruses like "Get Away" and "Grey Belly" provide landmarks while Mangoo bring psychedelic heft to "Beyond the Sky" and the title-track, which at seven minutes seems to draw together everything the album that shares its name has to offer – except perhaps in the closing cover of Eddie Murphy's 1985 single "Party all the Time." Not that they needed to remind listeners to stay on their toes because you never know what's coming when Mangoo emerges from the studio, but suffice it to say the track remains an earworm for the ages.
All told, Mangoo's The Heat is 53 minutes of masterful heavy rock and roll of inimitable personality and unmistakable songcraft. It is a welcome return after half a decade from a band who have obviously not been wasting their time in terms of growth and forward progression, and a surefire highlight for any underground heads lucky enough to take it on.
Credits
Mangoo is:
Pickles: lead vocals, guitar
Mattarn: guitar, backing vocals
Nicke: keyboards, backing vocals, percussion, theremin
Igor: bass, backing vocals, lead vocals on 'Tiembla'
Teemu: drums, backing vocals, percussion, music box
Produced, recorded and engineered by Niklas Björklund.
Co-produced by Richard Dahllund, Igor Del Toro, Mathias Åkerlund and Teemu Pulkkinen.
Additional overdubs recorded by Simon Persson at Sensus Studio and by Jussi Vuola at VR Studios.
Mixed by Benny Grotto at Mad Oak Studios.
Mastered by Chris Goodman at Baseline Audio.
Artwork by Alexander Von Wieding.
All songs written by Mangoo (Niklas Björklund, Richard Dahllund, Igor Del Toro, Mathias Åkerlund and Teemu Pulkkinen) except "Party All the Time" (James A Johnson).
Published by Small Stone Records (ASCAP).