SS-172 :: LA CHINGA – Beyond The Sky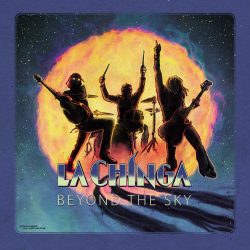 Label: Small Stone Records
Release date: September 7th, 2018
Catalog number: SS-172
Track List
Nothin' That I Can't Do
Wings of Fire
Mama Boogie
Black River
Beyond The Sky
Keep On Rollin'
Killer Wizard
Death Rider
Feel It In My Bones
H.O.W.
Warlords
Album Info
La Chinga was born in Vancouver, BC in 2012, although in reality it was conceived about a year earlier when bassist/vocalist Carl Spackler was surfing in SoCal and his chicano beach buddies kept hailing each other with the mysterious phrase.
"La chingaaaaa!"
We'll spare any sensitive unilingual anglophones the meaning; what matters is that Spackler's dream of a hard rock power trio built on erogenous funkadelic rhythms and a devotion to life's more sublime pleasures—chief among them: tequila—was now embodied inside a beautifully obscene two-word incantation.
Drummer/vocalist Jay Solyom and guitarist/vocalist Ben Yardley—also a noted professor of theremin—were conscripted shortly after, both veterans of Vancouver's notoriously dead-end music scene, both beautifully obscene in their own right. La Chinga's self-titled debut record was rushed out of a makeshift studio in 2013 on nothing but fumes and the liberating force of not giving a shit, landing like a hairball crossed with a stink bomb inside a world of yoga pant commerce, condo developments, and Macbook "musicians."
This was a revolutionary act—or maybe a devolutionary one, at least.
Meanwhile Spackler was busying pouring all off his demented '70s obsessions into wild three-minute homemade music videos, finding the visual language of fuzz itself inside shitty horror films as he furnished the great infernal drive-in of his mind. Somehow, miraculously, this charming brew conspired to make La Chinga the hottest bunch of stoned ape groovers to hot wheel out of the Pacific Northwest since forever.
Freewheelin' followed in 2016 on Detroit's Small Stone Records, and so did unhinged tours of Europe, more year-end accolades, festival slots (420 Fest, Sasquatch), and Spackler's continuing evolution as the Orson Welles of retard-o-tronic found footage scuzz. And then things got serious: in late 2017, La Chinga entered Vancouver's fabled Warehouse studio with no-less-fabled producer Jamey Koch (DOA, Copyright, Tragically Hip). The result? Beyond the Sky, available September 7th, 2018.
Opening track "Nothin' That I Can't Do" sets the agenda for the album's 45-minutes of sublimely confident freedom rock, sometimes meaty and beaty ("Mama Boogie", "Death Rider"), sometimes glam-handed ("Killer Wizard"), and occasionally even dirtbag pretty ("Keep on Rollin'). When it all melts into a puddle of phased goo in the final bars of "Warlords", the listener has been rolled, boogied, and otherwise supernaturally conveyed well beyond the sky, maybe even beyond ridiculous. This is how it feels to get chinga'd, amigos. Surf's up.
Credits
La Chinga is:
Jason Solyom: drums, percussion, vox
Carl Spackler: bass, vox
Ben Yardley: guitar, vox, theremin
Keep On Rollin' | Killer Wizard | Mama Boogie | Wings of Fire
Recorded and mixed by Jamey Koch at the Warehouse Studio.
Feel It In My Bones | Nothin' That I Can't Do | Warlords
Bed tracks recorded by Jamey Koch at the Warehouse Studio.
Overdubs and mixing by Jason Solyom at Witch Mountain Studios.
Beyond The Sky | Black River | H.O.W.
Recorded and mixed by Eric Nielsen at Afterlife Studios.
Mastered by Chris Goosman at Baseline Audio Labs, Ann Arbor, MI.
Published by Small Stone Records (ASCAP).
Album artwork and design by Alexander von Wieding, zeichentier.com
Thanks to family and friends, Scott at Small Stone Records, Marc Rockenburg at Red Sun Barcelona, Sean Palmerston.
La Chinga is proud to be endorsed by CreativeBC.