SS-178 :: PALE GREY LORE – Eschatology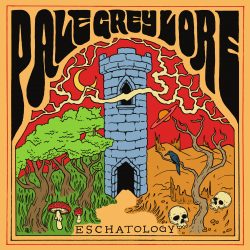 Label: Small Stone Records
Release date: September 6th, 2019
Catalog number: SS-178
Track List
Sunken Cities

Greed Springs Eternal
Before the Fall
Regicide
Waiting for the Dawn
The Rift
Void-Cursed
Silent Command
Undermined
Eschatology
Album Info
Blending elements of garage psych, space rock, post‐punk, and stoner doom, Columbus Ohio's Pale Grey Lore create focused, hook-driven heavy rock and roll loses no edge for its focus on songwriting. Melodic vocals and subtle harmonies echo alongside molten groove in guitar, bass and drums, taking a time-tested formula and proving it indeed to be timeless.
The band began as a collaboration between brothers Michael (guitar, vocals) and Adam Miller (drums), with Donovan Johnson (bass) joining up in the summer of 2014. Xander Roseberry (guitar, backing vocals) was added to the lineup in the winter of 2016, just prior to their signing with Oak Island Records, an imprint of German label Kozmik Artifactz.
Pale Grey Lore's self‐titled debut album was originally self‐released on limited‐run CD and download in June of 2016. Conceived as a series of surreal vignettes, it brought forth allegorical scenes from a dystopian, post‐apocalyptic world in which the lines between science and the occult, technology and superstition, were hopelessly blurred. The album was released on vinyl LP December 1st 2017 via Oak Island Records.
Building on the momentum of the vinyl release, Pale Grey Lore began playing more live shows throughout the Midwest, landing spots on heavy music festivals such as the Chicago Doomed & Stoned Fest, Descendants of Crom, and the Maryland Doom Fest. They have shared the stage with: Pelican, Monolord, Lo‐Pan, and Le Butcherettes and have completed their second album 'Eschatology' which can be best described as heavy on the heavy, and fuzzy and trippy in all the right places. 'Eschatology' will be hitting the streets on all formats in September of 2019 on Small Stone.
For fans of: Failure, Lo-Pan, Black Sabbath, Irata, Sundrifter.
Credits
Pale Grey Lore is:
Michael Miller: lead and backing vocals, six-string electric and acoustic guitars, theremin and mellotron sounds
Xander Roseberry: backing vocals, six-string and twelve-string electric and acoustic guitars, theremin and chimes
Donovan Johnson: bass guitar
Adam Miller: drums and auxiliary percussion
Produced by Xander Roseberry and Michael Miller.
Engineered and mixed by Andy Sartain.
Recorded at Mindfield Recording & Mixing in Columbus, Ohio.
Mastered by Harold LaRue.
Artwork and layout by Adam Eckley.
All songs written and performed by Pale Grey Lore.
All lyrics by Michael Miller.
Published by Small Stone Records (ASCAP) / SH Small Stone Music (BMI).