SS-183 :: MISS LAVA – Doom Machine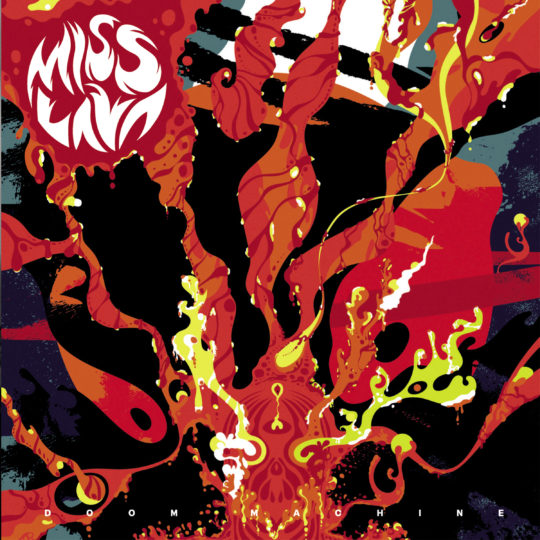 Label: Small Stone Records
Release date: January 15th, 2021
Catalog number: SS-183
Track List
Fourth Dimension
In the Mire
Magma
Brotherhood of Eternal Love
Sleepy Warm
The Great Divide
Karma
The Fall
 Alpha
The Oracle
Terra
Doom Machine
God Feeds the Swine (Bonus track)
Feel Surreal (Bonus track)
Red Atlantis (Bonus track
Album Info
Lisbon's premier heavy rockers Miss Lava are back with 'Doom Machine', the perfect soundtrack for your post-lockdown world. The band's fourth album will launch through Small Stone Records early in 2021.
"This album reflects on how each one of us can breed and unleash our own self-destructive force, assembled to be part of a giant Doom Machine," states singer and lyricist Johnny Lee.
It is the band's densest sonic output, emotionally reeling from the tragic death of guitarist K. Raffah's baby son and from all the other members' children born during the creative process.
"'Doom Machine' is a very emotional experience for us… [my son] was only here for a month and a half, but his light was very bright. When we listen to the record, it's impossible not to hear my son's energy on many moments. We feel his presence every time," shares K. Raffah.
Sonically, 'Doom Machine' ranges from riff-raff extravaganza to psychedelic and eerie swirls amid hypnotic interludes. All instrumental parts were recorded live to capture a fresh energy.
'Doom Machine' is the successor to 'Dominant Rush EP' (2017), 'Sonic Debris' (2016), 'Red Supergiant' (2013), and 'Blues for the Dangerous Miles' (2009) – named by Loud Magazine as one of the top 5 Portuguese albums of the year – as well as a limited edition self-titled blood red vinyl EP (2008).
Over the years, the band has played live in UK, on Spanish and German tours, and had slots on different European festivals. Miss Lava even made a one-off appearance at the legendary Whisky a Go-Go in Los Angeles. The band has shared the stage with the likes of Queens of the Stone Age, Slash, Graveyard, Ufommammut, Greenleaf, Kyuss Lives!, Fu Manchu, Valient Thorr, Entombed, Truckfighters and many more.
With 'Doom Machine', Miss Lava expect to launch a series of singles and videos to promote the album and announce European touring throughout 2021.
For fans of: Dozer, Deville, Greenleaf, etc.
Credits
Miss Lava is:
Johnny Lee: vocals
J. Garcia: drums
K. Raffah: guitars
Ricardo Ferreira: bass and vocals
Produced by Miss Lava and Miguel "Veg" Marques.
Recorded and Engineered by Miguel "Veg" Marques at Generator Music Studios, Magoito, Sintra.
Mixed by Eric Hoegemeyer at Tree Laboratory, Brooklyn, NY.
Mastered by Chris Goosman at Baseline Audio Labs, Ann Arbor, MI.
Design and Artwork by josemendes.me.
Photography by José Dinis.
All music by Miss Lava.
All lyrics by Johnny Lee.
Published by Small Stone Records (ASCAP).