SS-133 :: WO FAT – The Black Code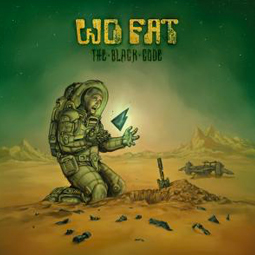 Label: Small Stone Records
Release date: 2012
Catalog number: SS-133/2012
TRACKLIST:
1. Lost Highway 05:25
2. The Black Code 10:05
3. Hurt At Gone 07:54
4. The Shard Of Leng 12:35
5. Sleep Of The Black Lotus 10:14
REVIEWS:
– Wo Fat hail from Texas, and from opening track 'Lost Highway' this album starts as it means to go on, drenching the listener in a Rio Grande of fuzz guitar. But it soon becomes apparent that, highly competent as they are in reproducing the sound of early 70s heavy rock, they don't appear to have much ambition beyond this. The gruff vocals of guitarist Kent Stump also do little to set the band apart.
The title track begins as slow as early 80s Swans, but we're soon musically back in the previous decade as it picks up to attain mid-pace metal. Lyrically however there are nods to the current era, expressing defiance of "digital witchery" and "fractal thievery".
'Hurt at Bone' has a more openly blues-based approach and is delivered with greater energy than most of the material. Its more complex, tom-tom heavy rhythm, some powerful electric slide, and guitarwork that evokes Hendrix and Page, combine to make this the album's most satisfying song. The band's tendency towards extensive jamming in the latter part of songs is for once reined in, and to good effect.
There is some attempt at a different musical texture in 'The Shard of Leng', where electric piano and resonating feedback create a moody atmosphere. But at 6 minutes in this is thrown away as the band shift into generic quasi-Sabbath rock once more for the remainder of the song.
Final cut 'The Sleep of the Black Lotus' is a further cry against the addictive hypnotism of the Internet age ("The thieves dance/While you're in your touchscreen trance"), while the band once more give full expression to their musical nostalgia – perhaps that in itself is to be taken as a form of protest. Yet while Kent Stump's playing will rarely be mentioned in the same sentence as the word 'economical', there are times both here and at other points on this album where his self-indulgence is pushed to the point where he goes beyond the blues-rock template and hits something arresting.
Unfortunately the overall impression this album leaves is of a band who have mastered a 40 year-old style and are largely content to stick to what they know. Both fans of that style and of grunge will find things to enjoy here – I just feel that Wo Fat have the ability to make something more identifiably theirs if they so choose. PENNY BLACK MUSIC

– The word "thick" in the English language has a few uses. It can mean stupid, it can mean something that has great physical depth yet in the case of this new album from Texan groove masters it is a suitable adjective to describe their entire sound. This is one mighty tasty slab of beef that makes the densest molasses seem as thin as badger's piss!!!
Wo Fat consist of only three people; guitarist/vocalist Kent Stump, bassist Tim Wilson and drummer Michael Walter, and for three people they create a huge sound that mixes elements of swampy blues, stoner rock and dirty doom. We all know that Texans like things bigger and better than everyone else and that frame of mind applies here in spades. The five songs here, yes only five songs, each stretch their wings in several directions and take their own sweet time to reach a conclusion.
The opening track "Lost Highway" is practically radio friendly at around five and a half minutes whereas the title track spans over ten minutes and in its first 3 minutes grinds through doom, stoner to something that resembles borderline trad metal. From there things just continue to grow, build, grind and groove and not to mention rock out in no uncertain terms. Usually I'm not a big fan of longer songs but Wo Fat never let the grass grow under their feet, never let a riff outstay its welcome and keeping the momentum up at all times. In effect, the song writing is very natural and organic, the songs are as long as they need to be and reach a conclusion when they've run their course, be it five minutes or fifteen!!!
Highlight track would have to be "Hurt At Gone" with its slide guitar and crazy Voodoo rhythms. This is how Dr John would have sounded had he been a member of Black Sabbath in 1970. The track ebbs and flows yet builds to a monstrous finale that threatens to implode but the skill of the band is knowing just when to pull things back into line. By contrast the twelve minute plus "The Shard Of Leng" comes across like a steroid driven Pink Floyd riding on a sweet and lazy groove with Stump's spacious and spatial guitar taking centre stage. We don't get a sniff of a riff until nearly six minutes in at which point the band really kick into gear, chopping and changing the vibe and the groove keeping the listeners delicately poised on the tips of their toes. The motto here seems to be "expect the unexpected, so when the unexpected comes you'll be expecting it!" The band appears to share an almost telepathic bond as the songs flow effortlessly and seamlessly from riff to riff but with the vibe of a band jamming through ideas as they hit.
It's easy to see why so many stoner and doom fans have been frothing at the mouth about Wo Fat and this album in particular. The band takes the formula of these genres and flips them into something more organic and free flowing to create something unfettered by clichés that's primal, heartfelt and downright effective. Another nugget of pure gold from Small Stone, it's getting to be a habit! THE SLEEPING SHAMAN

– Texas riffmasters, Wo Fat, return with their 4th offering entitled The Black Code, their shortest and arguably the most accomplished record out yet. With their previous efforts, the band had problems trimming the track list to a manageable length, but on The Black Code, each of the five tunes bring something different to the table, summing all of the band's qualities into an impressive 46 minute set.
Following the steps of last year's Noche Del Chupacabra, that relied loosely on jamming (especially on the title track), The Black Code tightens the tested formula into a more dynamic affair. Wo Fat keep the engine running until the very end by constantly shifting gears, adding lots of epic solos, while guitarist Kent Stump's vocals are more spot on than ever. The best example is the title track, as it shows the ever increasing chemistry between the three members, growing from a main fat groove to a tight, heavy riffing jam in the middle. At one point, the guitar finally takes off and lets loose the awaited solo with great effect. Overall, "The Black Code" doesn't feel as unified as the rest of the songs, since there are two distinct parts merged together, but somehow works and sounds really good.
Also, the two shortest songs here pack some great action, as opener "Lost Highway" immediately brings out the big guns, starting with an infectious stoner riff, before bursting into a mid-paced monster with killer vocals. Its straightforward structure reveals the core of the band's more stretched affairs, thus indicating what's to come. On the other hand, "Hurt At Gone" surfaces the Southern influences the record boasts, featuring some hard hitting tribal-like drumming, along with some cool fuzzy slide licks and a strong jam towards the end.
The last two songs carry out the more experimental side of Wo Fat hinted on their previous record, Noche Del Chupacabra. "The Shard Of Leng" delves more into psychedelic territory with a lengthy intro containing a hypnotic bass line and several ambient guitar washes, before turning into a fast paced groove monster. The changes are smooth and the band constantly adds new layers then reaching a climax at the last two minutes with a scorching riff complemented by keyboard tweaks. "Sleep Of The Black Lotus" is a great album closer, summarizing really neat what the band's capable of. The whole song feels like an extended jam with slower, fat riffs rounded up with long solos. It's nothing different from Wo Fat's relative simple formula, but it sounds damn good and that's enough.
In the end, it really feels like Wo Fat have reached a creative peak and outdone themselves with The Black Code. With each record they have sharpened their skills, tightened their riffs and the loose jam outings into a more solid formula that's really paying off. The band could use more experimenting outside their comfort zone, but so far they're really masters in their own genre and their music proves that. For stoners, this record is golden and hard rock and metal fans unaccustomed with Wo Fat mustn't miss this record. SPUTNIK MUSIC
ALBUM INFO:
Tearing through the speakers like a swamp monster summoned from some dark cosmic morass, Texas riffmasters Wo Fat unapologetically blast out a southern fried, blues-infused version of Psychedelic Doom, conjuring up visions of hoodoo shacks, prowling undead, hell hounds at the crossroads, Lovecraftian cultists and ghouls, and worlds beyond where the riff reigns almighty.
Wo Fat rose from the deep and began their psyche-doom-adelic quest circa 2003 when guitarist Kent Stump formed the band with drummer Michael Walter and bassist Tim Wilson. Their goal was to create a music that is crushingly heavy, but that stays within the paradigm forged by Black Sabbath, Jimi Hendrix, ZZ Top and the other 70's greats. A music that allows for improvisational freedom, extensive jamming and interplay between the three members yet that, at the same time, allows them to crank out monolithic, fuzzed out, downtuned riffs, all the while staying true to the haunting blues that wail and moan deep within their souls.
Their 2006 release, "The Gathering Dark," which was the first documented, hazy, smoke-filled trip in their ongoing Riff Quest, gave us the blueprint that they would expand upon in later albums. This blueprint was a mixture of dark, Mississippi Hill Country blues, extended acid guitar freakouts and heavier-than-Led, Sabbath-style riffing. Wo Fat took things up a notch with their next album, "Psychedelonaut"(2009) and again with 2011's "Noche del Chupacabra," continuing to offer up even weightier and more crushing riffage coupled with moments of spaced out trippiness. Both of these albums garnered much critical acclaim and helped to establish them as an up and coming force to be reckoned with in the Stoner/Doom world, with "Noche del Chupacabra" landing on a number of Top Albums of 2011 lists.
Now, Wo Fat has joined the Small Stone roster and, after another psychedelic journey to the hoodoo shack, is offering up a new epic album – "The Black Code" – five hefty slabs of classic Wo Fat analog fuzz, but this time, with a more sci fi related motif, full of cyber-visions of evil code, alien artifacts, doors to alternate dimensions and premonitions of digital horror. Musically, Wo Fat is continuing further down the road of melding structured, groove-laden riffing with free-wheeling open improvisation, relying on heavy interaction and communication between the three musicians to take the music to new heights of sonic heaviness. And not just a one dimensional heaviness. Heaviness in groove, sound and feel as well as riff. This is not cold, sterile, machine-like metal. This is organic, earthy metal that is full of that elusive, deep, "way back yonder" funk that is so often the missing ingredient in this digital age in which we live. No synthetic designer pharmaceutical here, but a pure, expertly cultivated, homegrown strain of Texas riffage.

Released 13 November 2012
WO FAT is:
Kent Stump: Guitar, Vox, Fender Rhodes
Tim Wilson: Bass
Michael Walter: Baterie Mastodontica, Vox
Recorded and mixed by Kent Stump at Crystal Clear Sound, Dallas, Tejas.
Mastered by Chris Goosman at Baseline Audio Labs, Ann Arbor, MI.
Artwork, illustration and design by Alexander Von Wieding, www.zeichentier.com
Photography by Judy Stump, www.judystumpphotography.com