SS-158 :: ISAAK – Sermonize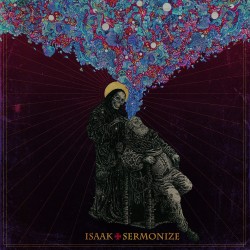 Label: SMALL STONE RECORDS
Release date: 02/06/2016
Catalog number: SS-158
TRACKLIST:
1) Whore Horse
2) The Peak
3) Fountainhead
4) Almonds & Glasses
5) Soar
6) Showdown
7) Yeah
8) Lucifer's Road
9) Lesson n.1
10) The Frown Reloaded
11) The Phil's Theorem
12) Sermonize
ALBUM INFO:
Credits:
Giacomo H Boeddu: vocals
Gabriele Carta: bass
Andrea Tabbì De Bernardi: drums, vocals
Francesco Raimondi: guitars
Recorded by Mattia Cominotto @ Green Fog Studio, Genova, Italy.
Mastered by Chris Goosman @ Baseline Audio Labs, Ann Arbor, MI.
Cover Painting by Richey Beckett.
Design/Layout by SoloMacello. metal@solomacello.it
All songs written by Isaak, except "Yeah" (Kyuss) and "Lucifer's Road" (White Ash).
Published by Small Stone Records (ASCAP).