SS-055 :: NOVADRIVER – Deeper High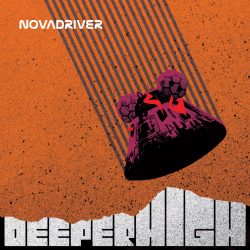 Label: Small Stone Records
Release date: August 30th, 2005
Catalog number: SS-055
Track List
You Want Yours, You Want Mine
Roll You
Deeper High
Turn to Stone
Dark Aftermath
Machine
Bury Me Alive
Stars After Stars
Push the River
Blackout
Whiteout
Album Info
Since their last release, 2001's critically accalaimed, lauded and fellated Void, Detroit's Novadriver have had what can only be called a "tumultuous" time. Life, as it sometimes does, got in the way and a series of internal disputes led to vocalist Mark Miers' departure to pursue other "musical avenues." The band, Billy Reedy, Jim Anders, and Eric Miller, bravely soldiered on with a seemingly never-ending queue of Miers-substitutes. It seemed like every time the band had finally jelled with a new vocalist, the unattractive specter of ego would rear up its head and lead to whomever the current singer's departure to pursue a "solo career." Right… This in turn led to cancelled tours, opportunities, etc.
Fast forward ahead to the present day, add the Mike Miers-like return of Mark Miers, and the band is again the rock-juggernaut of old. The result of all this "life-experience" is Novadriver's new tour-de force: Deeper High. Reflective of the frustrations of the last few years, produced by Al Sutton (Big Chief, Don Caballero, Laughing Hyenas) and mixed by Bob Pantella (Monster Magnet, Raging Slab) Deeper High is a much darker record than its precursor, but still builds on the foundations lain by Void: heavy spacey guitar driven psychedelic Rock, the way only the Motor City can produce; the Stooges writing Sabbath songs, Deep Purple trying on the MC5's shoes, Pink Floyd finally acting like they have some balls… Briefly put, Miers' voice has never sounded stronger or more menacing, Reedy's guitars have never bared their teeth more ferociously, nor have Anders and Miller ever been a tighter and ballsier rhythm section. Novadriver look to be back in the saddle, ahem… bucket seat and have their engine in a full, howling rev…
"Novadriver channel the glorious era of Camaro rock. With the relentless trudge of the best stoner rock coursing through their rhythm section, Novadriver radiate Hawkwind-like space metal and '70s arena-rock bombast. … vicious, wah-torn guitar solos add appropriate violence, raining acid from the skies, … the band is a high-decibel, majestically bloated romp through Motor City mayhem."
—Eric Bensel – Alternative Press – November 2001
Credits
Novadriver is:
Mark Miers: Vocals, Keys
James B. Anders: Bass
Billy Reedy: Lead Guitar
Eric Miller: Drums & Percussion
Eli Ruhf: Rhythm Guitar
Produced by: Al Sutton & Bob Pantella
Recorded by: Al Sutton & Dave Allison
Recorded @ Rustbelt Studios – Royal Oak, MI.
Mixed by Bob Pantella @ The Laundry Room – Middletown, NJ.
Mastered by Chris Goosman @ Solid Sound – Ann Arbor, MI.
Illustration and design by Keith Scharwath.