SS-140 :: ISAAK – The Longer the Beard the Harder the Sound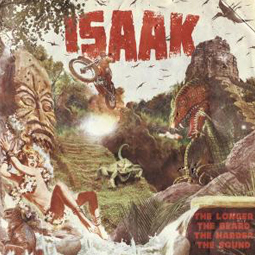 Label: Small Stone Records
Release date: 2013
Catalog number: SS-140/2013
TRACKLIST:
1. Haywire 04:06
2. Under Siege 03:04
3. Breaking Balance 04:37
4. Flood 07:59
5. Red (The Colour Of God) 02:28
6. Rest Of The Sun 03:38
7. Adrift 03:39
8. Hypotesis 10:33
9. Fearless 04:33
10. Wrathchild 03:20
11. The Right Time 02:30
12. Isolation 2.0 02:33
ALBUM INFO:
Long regarded as a rising force within Italy's underground stoner rock scene, where they were previously known as Gandhi's Gunn, Genoa's freshly renamed Isaak is now preparing to spread their bruising bombast across the world with the help of Detroit, MI's Small Stone Records.
The quartet, which is comprised of vocalist Hobo, guitarist Scazzi, bassist Maso and drummer Andre, was first inspired into action by the legendary works of the major names of American stoner rock – namely Corrosion of Conformity, Fu Manchu and Clutch.
And yet both their first LP, 2010's Thirtyeahs (which was issued in a limited run of 300, hand-numbered vinyl + CD packages by Taxi Driver Records), and its 2012 sophomore follow-up, The Longer The Beard, The Harder The Sound, clearly revealed a band ready to transcending these core influences and explore more visionary and psychedelic territories.
We're talking…churning riffs, elephantine grooves and raging growls, seasoned to perfection with lysergic flights, epic jams and even mesmerizing quieter passages, before being served al dente for consumption by our most discerning stoner rock patrons.
This rich musical palate undoubtedly benefited from Gandhi's Gunn/Isaak solid two years of intense concert activity, which found them sharing Italian stages with international luminaries such as Church of Misery (Japan), Los Natas (Argentina), Nadja (Canada) and Amen Ra (Belgium) – plus a slew of U.S.-based concerns, including Acid King, Atomic Bitchwax, Big Business, 16, Unsane and Clutch.
Come October 2012 the Gandhi's Gunn name was retired and Isaak born, just in time for the band's signing with Small Stone, which is now happy to announce the imminent global reissue of The Longer The Beard, The Harder The Sound, in March 2013.
Newly expanded with four tracks (including covers of Pink Floyd's "Fearless" and Iron Maiden's "Wrathchild"), the album has also been remixed by Eric Hoegemeyer at Brooklyn, NY's Tree Laboratory and mastered by Chris Goosman at Ann Arbor, MI's Baseline Audio Labs.
Rock…is served.

Released 25 June 2013
Isaak are:
Giacomo H. Boeddu: vocals
Francesco Raimondi: guitars
Massimo Perasso: bass
Andrea Tabbi' De Bernardi: drums
Additonal Musicians:
Bernardo Russo: synth on "Hypotesis" and "Flood"
Emanuele Eimani Milletti: sitar on "Hypotesis"
Giulia Piras: additonal vocals on "Flood"
Recorded by Mattia Cominotto at Greenfog Studio – Genova, Italy.
Mixed by Eric Hoegemeyer at Tree Laboratory – Brooklyn, NY.
Mastered by Chris Goosman at Baseline Audio Labs – Ann Arbor, MI.
Artwork and design by SoloMacello.
Produced by Isaak.
All songs by Isaak except: "Fearless" (David Gilmore, Roger Waters) and "Wrathchild" (Steve Harris).
All lyrics by Giacomo H. Boeddu and Michela Berzilli.
Published by Small Stone Records (ASCAP).