SS-164 :: CAPTAIN CRIMSON – Remind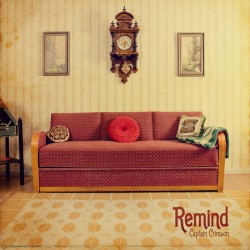 Label: Small Stone Recordings
Release date: October 14th, 2016
Catalog number: SS-164
Track List
1. Ghost Town
2. Bells from the Underground
3. Love Street
4. Black Rose
5. Money
6. Drifting
7. Remind
8. Let Her Go
9. Alone
10. Senseless Mind
Album Info
The Swedish hotbed of Örebro has already produced the likes of Truckfighters, Graveyard, Witchcraft and Blues Pills. Prepare to add Captain Crimson to this exceptional tradition.
Formed in 2010 by vocalist Stefan Lillhager, formerly of Blowback, Captain Crimson draws inspiration from the classic sounds of The Groundhogs, Blue Cheer, Emerson, Lake & Palmer, Jethro Tull and Cactus, meeting heavy boogie head-on with a modern swagger that has carried over to their latest and third album, Remind – their first for Small Stone Records.
Remind follows their 2012 debut, Dancing Madly Backwards, which led them onto their first tour that Fall. Emerging with the lineup of Lillhager singing, bassist/backing vocalist Chris David (ReinXeed), guitarist Andreas Eriksson and drummer/organist Mikael Läth, Captain Crimson earned rave reviews for their blues riffing and killer hooks, and they did what any band worth their salt would: They kept touring.
Their second album, 2014's Ageless Time, aligned them to Moving Air Music and Nasoni Records and once again put them on the road. On the LP, they showcased a multifaceted songwriting process, benefiting from the contributions of each player working together to bolster the strengths of the whole, and with a stopgap jam session in Stockholm captured on a 2015 digital EP, they make their way into Remind having fully realized their vision of modern classic rock.
Make no mistake: Captain Crimson's latest is nothing less than a testament to the timeless power of groove, of memorable choruses that take you back to when you felt such things deep in your soul, and indeed offer a reminder that you still can and that you still do. It is the kind of rock and roll that speaks to the essence of the form, and we think that when all is said and done, it's one of the best records ever to arrive with a Small Stone logo on it. We couldn't be prouder if we tried.
Credits
releases October 14, 2016
Captain Crimson is:
Stefan Lillhager: vocals
Andreas Eriksson: lead guitars
Mikael Läth: drums
Chris David: bass
Guest musician:
Timo Tilli: harmonica
Artwork by David Zika.
Photography by Karin Foberg.
Recorded at Crimson Cove Studio.
Produced by Jocke Frisö and Captain Crimson.
Mixed by Jocke Frisö.
Mastered by Chris Goosman at Baseline Audio Labs, Ann Arbor, MI.
Published by Small Stone Records (ASCAP).