SS-179 :: SEVEN PLANETS – Explorer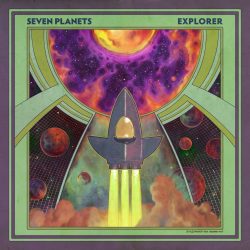 Label: Small Stone Records
Release date: February 7th, 2020
Catalog number: SS-179
Track List
Vanguard

Plain Truth In A Homespun Dress
Explorer
206
Seven Seas
Great Attractor
Grissom
The Buzzard
Album Info
West Virginia-based heavy instrumentalists Seven Planets will release their third full-length, Explorer, in early 2020 through Detroit's Small Stone Records. Drawing on classic metal, heavy boogie, and blues rock, the group formed in 2007 and consists of guitarists Leonard Hanks and Jim Way, bassist Mike Williams and drummer Ben Pitt, all of whom have played in bands together in different configurations for over 25 years. Its groove-anchored sound has drawn comparisons to Brant Bjork and Clutch-offshoot The Bakerton Group with The Obelisk noting "the instrumental chemistry and stylistic foundation… fuse the varying sides of their sound into a cohesive funky, heavy psychedelic whole, entirely their own."
Written and recorded over a period of personal difficulties and individual strife for the four band members, Explorer captures a sense of escapist freedom in its deep grooves, burly riffs, and expansive atmosphere, which further illustrates what Heavy Planet stated in its review of the band's self-titled 2012 LP: "Seven Planets take you on an amazing journey into another cosmic dimension."
The new album features artwork by renowned German illustrator Alexander von Wieding (Monster Magnet, Brant Bjork, Karma to Burn, etc.), giving further representation to the idea of escape with a spacebound retro-style rocket headed to the unknown. Exploration in the truest sense.
For fans of: Clutch, Brant Bjork, Karma to Burn.
Credits
Seven Planets is:
Leonard Hanks: guitar
Ben Pitt: drums
James Way: guitar
Mike Williams: bass
Recorded by Seven Planets at Stonewall Studios, Beckley, WV.
Produced and mixed by Leonard Hanks.
Mastered by Chris Goosman @ Baseline Audio Labs, Ann Arbor, MI.
Album artwork by Alexander von Wieding.
All songs by Seven Planets.
Published by Small Stone Records (ASCAP).