SS-182 :: BLACK ELEPHANT – Seven Swords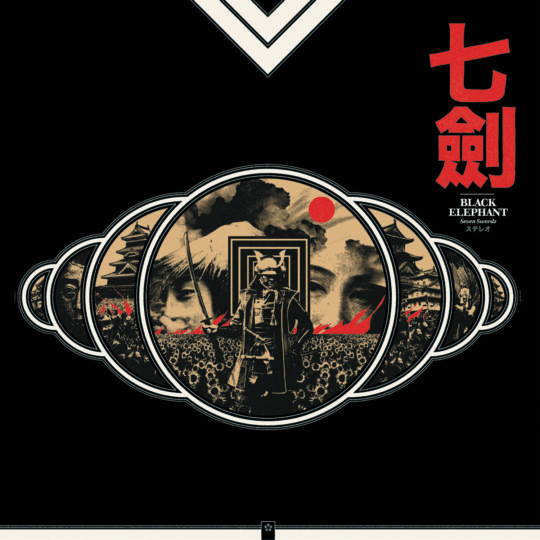 Label: Small Stone Records
Release date: August 21st, 2020
Catalog number: SS-182
Track List
Berta's Flame
The Last March of Yokozuna
Yayoi Kusama
Mihara
Red Sun and Blues Sun
Seppuku
Govinda
Album Info
The planets have aligned, and space itself has opened up to grace us with the heavy roll of Black Elephant's Seven Swords. The Italian fuzzmongers mark 10 years of cooperative corporeal existence in 2020 and last checked in from their native Savona in Summer 2018 with the aptly-titled Cosmic Blues, and two years and an entire lifetime later they're back with another collection of classic-minded heavy groovers, picking the best the '70s, '90s and '10s had to offer in riffery and melding spacey blowouts with desert-hued hooks.
Seven Swords is the second LP Black Elephant have issued in league with Detroit-based imprint Small Stone Records, and whether it's the scorching leads of "Yayoi Kusama" or the conscious wink-and-nod of "Red Sun and Blues Sun" a short time later — just ahead of the bluesy "Seppuku" and the near-nine-minute stretch of closer "Govinda" — the four-piece bring their finest work to-date in an efficient seven-track/33-minute stretch, building not only on what they accomplished on Cosmic Blues, but also what their prior two full-lengths, 2014ís Bifolchi Inside and 2012ís Spaghetti Cowboys, were building toward. This is a band coming into their own, wasting neither their time or yours in the process.
Fuzz pedals preach on, the sky cracks, and the riffs themselves seem to lock bellies in sumo battles, so what the hell? The world's ending anyway. You might as well have some fun with it.
For fans of: Dozer, Wo Fat, Kyuss, Black Rainbows, Los Natas, Atomic Bitchwax

Credits
Black Elephant is:
Alessio Caravelli: guitar and vocals
Massimiliano Giacosa: guitar
Marcello Destefanis: bass
Simone Brunzu: drums
Recorded and mixed by Giulio Farinelli.
Recorded at Green Fog Studio, Genoa, Italy.
Mixed by Giulio Farinelli at Everybody On The Shore studio, Milan, Italy.
Mastered by Chris Goosman at Baseline Audio Labs, Ann Arbor, MI.
Cover and Design by Robin Gnista.