Recent posts: FREEDOM HAWK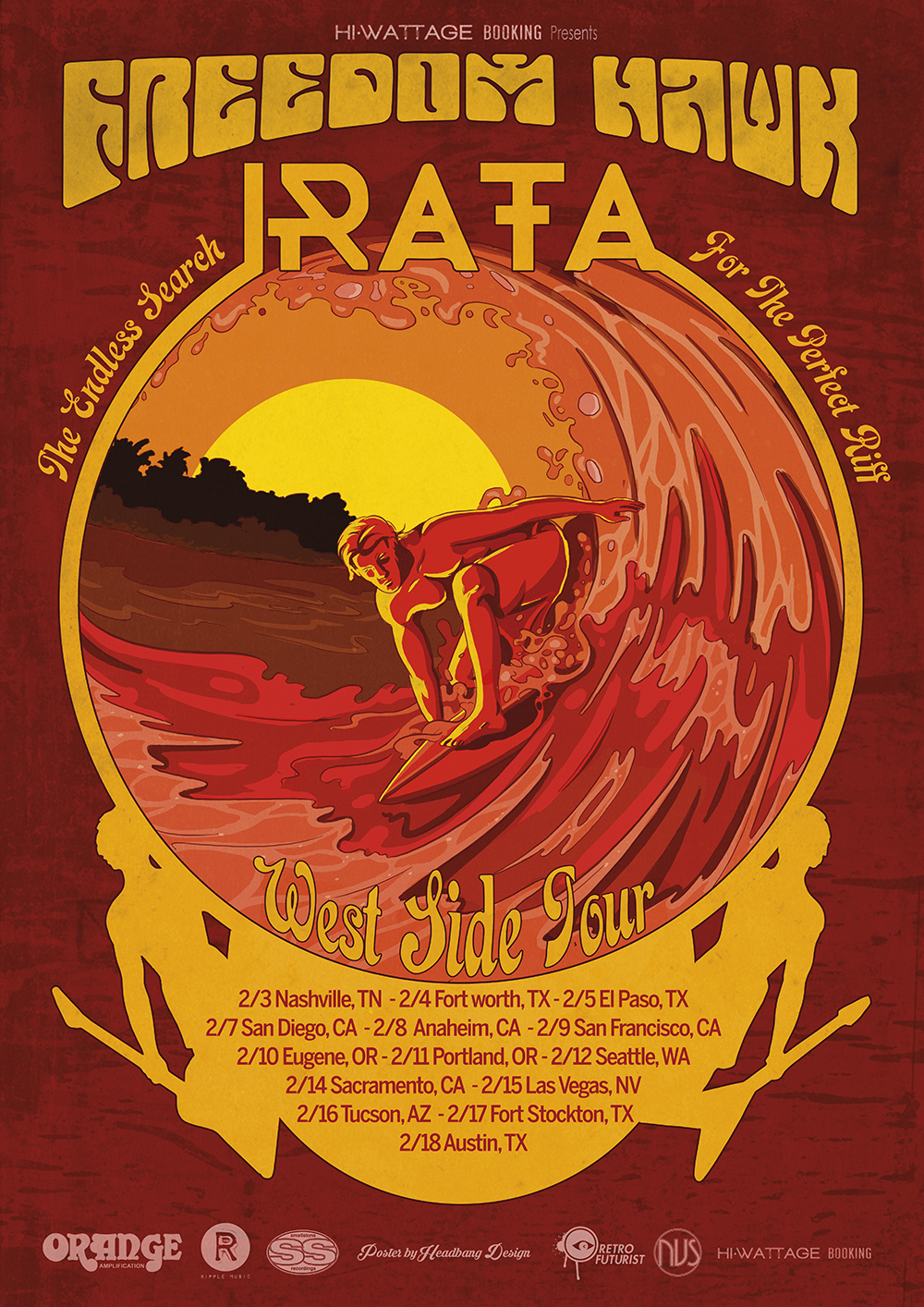 Freedom Hawk will bring there dark music fueled by the sun to the US West Side in support of there latest Small Stone (2015) release – Into Your Mind.
All dates w/ Irata
3-Feb Nashville, TN Springwater
4-Feb Fort Worth, TX The Rail Club club
5-Feb El paso, TX Rockhouse Bar & Grill
6-Feb Open (drive day)
7-Feb San Diego, CA Soda Bar
8-Feb Anaheim, CA Out Of The Park Pizza
9-Feb San Francisco, CA Thee Parkside
10-Feb Eugene. OR Old Nick's Pub
11-Feb Portland, OR High Water Mark Lounge
12-Feb Seattle, WA Funhouse Seattle
13-Feb Yreka, CA, Chromaphonic Music Hall
14-Feb Sacramento, CA Starlite Lounge
15-Feb Las Vegas, NV, Beauty Bar
16-Feb Tucson, AZ The Flycatcher
17-Feb Fort Stockton, TX The Garage
18-Feb Austin, TX Swan Dive
19th-Feb Open (hit us up)
Emanating from the barrier dunes of Virginia, Freedom Hawk's heavy riffs, rolling groove, and soulful guitar melodies produce a sound that is distinctly their own. The quartet's brand of heavy rock capitalizes on the best of the heavy '70s, with a head-spinning blend of 60s acid and fuzzy blues, that's modern and based around quality songwriting rather than style-over-substance retro posturing.
Join Freedom Hawk's continued search for the perfect riff!!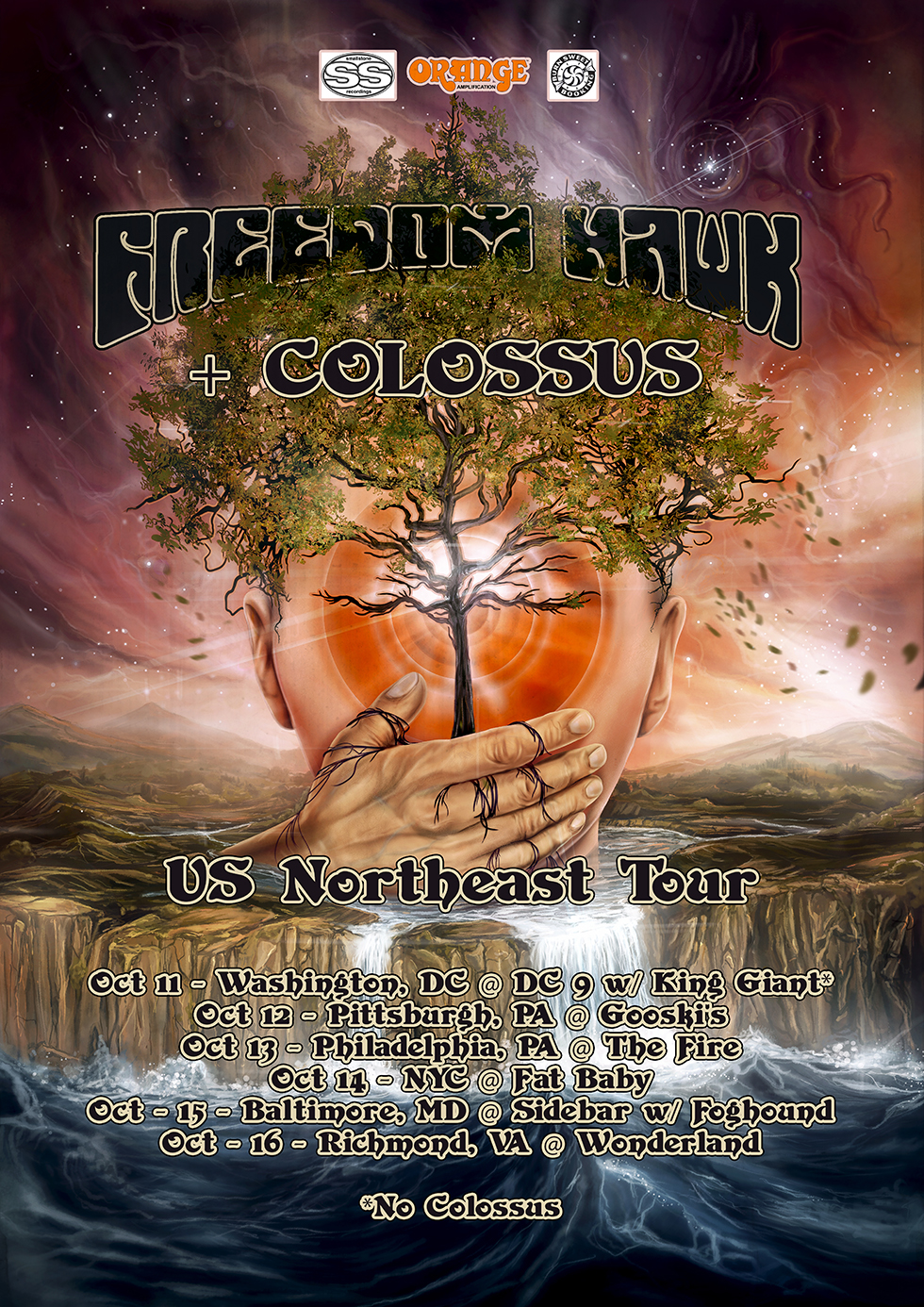 Burn Sweet Booking and Small Stone Records presents: 
Freedom Hawk – Into Your Mind – US Northeast Tour w/ Colossus 
* Oct 11 Washington DC @ DC 9 w/ King Giant
Oct 12 Pittsburgh PA @ Gooski's
Oct 13 Pennsylvania PA @ Ortlieb's 
Oct 14 New York, NY @ Fat Baby 
Oct 15 Baltimore, MD @ Sidebar w/ Foghound
Oct 16 Richmond, VA @ Wonderland
*No Colossus
After being quiet for a while after last years European tour, we have now worked in a new guitarist (Brendan O'neil from the thrash band Pestilence Choir) to round us out as a 4 piece once again and have been busy writing new material.  We have decided to take a pause from writing to get out on the road to do a very short tour run around the Northeast accompanied by our metal maniac mates in Colossus (Raleigh, NC).  We have relatively exciting news (at least to us that is) to announce in the near future…let's just say 2017 is looking bright.
Hope to see you there!!