SS-153 :: ABRAHMA – Reflections In The Bowels Of A Bird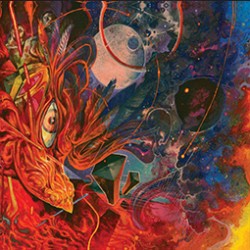 Label: Small Stone Records
Release date: May 2015
Catalog number: SS-153
TRACKLIST:
1. Fountains Of Vengeance
2. An Offspring To The Wolves
3. Omens Pt. 1
4. Weary Statues
5. Omens Pt. 2
6. Kapal Kriya
7. Square The Circle
8. Omens Pt. 3
9. A Shepherd's Grief
10. Conium
REVIEWS:
As far out as Abrahma went on Through the Dusty Paths of Our Lives, they never lost track of the fact that they were writing a piece to contribute to the whole of the record, and the same is true of Reflections in the Bowels of a Bird. More so, even, since the material is tighter and more cohesive and the album itself is nearly 20 minutes shorter at 52:41. It's that core of songwriting that enables Abrahma to continue to engage the listener in this brooding manner, their attention to detail evident in the effects, solos, rhythmic changes and depth of the mix, which is the kind of abyss in which it's a pleasure to lose oneself.
– THE OBELISK
In all, after a few listens I think this album will go right into my 'rock & metal masterpieces' shelf, next to some Pink Floyd, Sleep, Godspeed! You Black Emperor and Black Sabbath releases. Abrahma will fit right in with some of these classics with their perfect combination of powerful rock
and a complex and mature sound. Stunning piece of music…
– MERCHANTS OF AIR
Small Stone continues to release such gratifying albums and Abrahma seems to be a bit different than the stoner rock norm. The band has combined the elements of psychedelic metal, melodic doom and stoner rock into one big melting pot, creating a distinct album that is sure to draw in fans of these genres. We can see this album taking off since they seem to have a broad reach. We highly recommend this one, it has an overall massive sound quality that will challenge any stereo system. – 9 /11
– ROTATION11.COM
If you're a fan of anything doom, stoner, psych or even just want to hear something new and interesting you could do a lot worse than grabbing a copy of this. It's wonderful in its scope and showcases a band in very fine form playing with varying moods and delivering an album that shines from start to finish.
– METALASFUCK.NET
À l'écoute de ce deuxième album de haut vol, on ne peut s'empêcher de penser que les Parisiens auraient mérité une petite place sur la scène de la Valley au Hellfest 2015. Qu'à cela ne tienne, on ira braver leurs rafales spatiales sous le bas plafond du Glazart début Juin. Un lieu Idéal pour cette musique entre ciel et terre. – 8/10
– NEW NOISE MAG (MAY 2015)
The band played Roadburn this year, and they certainly fit in with that festival's expanding focus. In their more delicate moments, Abrahma also remind me of heavy progressive groups with a knack for catchy vocals, like Porcupine Tree or maybe Klone. It's not the single heaviest thing I've ever heard, but I revisited Reflections in the Bowels of a Bird to contemplate its balance of songcraft and tone, which is much more exciting than just another band that got into metal through grunge.
– INVISIBLE ORANGES
Reflections In The Bowels Of A Bird" is a record you will need to invest time in, given there is little in the way of visceral, fists in the air stuff that immediately catches the ear. However, it is a record that keeps on revealing more and more of itself with each listen and as time goes on it becomes something to cherish. Its ambitious, it's original and it's very, very good indeed. – 8/10
– MAXIMUM VOLUME MUSIC
When it's not lashing out with heavy riffs that infect your mind, it's a slow ambiance that makes you think you're floating in the great black ether of outer space
– RIDE WITH THE DEVIL
Reflections in the bowels of a bird se présente comme un manifeste, une ode au rock lourd, au métal puissant, à la musique ultra heavy et psychédélique. Le quartet puise ses forces aussi bien dans Alice in Chains qu'Electric Wizard ou Monster Magnet, et offre son propre mélange en béton armé. Riffs massue en veux-tu en voilà, ambiances païennes mélancoliques, solos de guitare jamais démonstratifs qui renforcent le caractère impénétrable de cette jungle érigée à la gloire de dieux vaudous oubliés, Abrahma a lancé un sacré pavé dans la mare. L'album est touffu et ne s'apprivoisera pas facilement, malgré une durée plus raisonnable que sur son prédécesseur, Through the Dusty Path of our Lives. Il n'est pas impossible qu'une telle densité en fasse fuir certains. On ne saurait les en blâmer, mais pour les autres, ce second album est un bloc de granit, non pas noir mais rouge sang. Comme les entrailles d'un oiseau, dans lesquelles l'avenir s'annonce radieux. – 8,5/10
– LA GROSSE RADIO
…Reflections In The Bowels Of A Bird est indéniablement l'un des meilleurs albums de rock heavy qu'il m'ait été donné d'entendre jusqu'ici. Je tire donc tout simplement mon chapeau en espérant qu'ABRAHMA saura trouver le public qu'il mérite chez nous comme à l'étranger…
– W-FENEC MAGAZINE (May 2015)
Avec « Reflections In The Bowels Of A Bird », Abrahma marque à nouveau un maximum de points et prouve que sa présence sur une structure internationale n'est en rien le fruit du hasard, mais le résultat d'un investissement conséquent dans cet art qu'est le stoner conjugué à une bonne grosse dose de talent. Bougez vos culs pour notre scène et cessez de tourner vos yeux vers l'Amérique : ces régionaux n'ont absolument rien à leur envier ! – 4/5
– DESERT-ROCK.COM
So to wrap things up, if you've got a yearning for something harkening back to early nineties grunge tinged psychedelia that provides you with a straight ahead rock with chops and hooks to spare, this will definitely be a release for you!
– THE SLUDGELORD
ALBUM INFO:
The quizzically-titled Reflections in the Bowels of a Bird arrives to further the sense of ritual in ABRAHMA's sound. Songs heave with psychedelic fervor but also dig deeper into an influence from the early '90s Seattle rock scene, groups like Soundgarden and Alice in Chains. One can hear their impact in the slow roll of a song like "An Offspring to the Wolves," while elsewhere, "Omens Pt. 3" opens up to spacious riffing and a tripped-out feel. What makes ABRAHMA work so well, though, is that no matter where they go sound-wise, they never lose sight of their songwriting, guitarist/vocalist Seb Bismuth, guitarist Nicolas Heller, bassist Guillaume Colin and drummer Benjamin Colin making memorable, structured material out of an ether of effects swirl and echo.
Releases 12 May 2015
Abrahma is:
Sebastien Bismuth: vocals, guitars, effects & keyboards
Nicolas Heller: guitars
Guillaume Colin: Bass guitar
Benjamin Colin: drums
Additional Musicians:
Ed Mundell: guitar solos on "A Shepherd's Grief"
Vincent Dupuy: saxophone on "Omens Pt. 2"
All Music written by Abrahma
All Lyrics written by Sebastien Bismuth
Published by Small Stone Records (ASCAP)
Recorded by Benjamin Colin at Hakesound Studios, Romainville (France).
Produced by Abrahma & Thomas Bellier.
Mixed by Eric Hoegemeyer at Tree Laboratory, Brooklyn, NY (USA) except Conium, mixed by Benjamin Colin at Hakesound Studio, Romainville (France)
Mastered by Chris Goosman at Baseline Audio Labs, Ann Arbor, MI (USA).
Album Artwork & Design by Jalón de Aquiles
enjalonate.blogspot.fr