SS-042 :: FIVE HORSE JOHNSON – The Last Men On Earth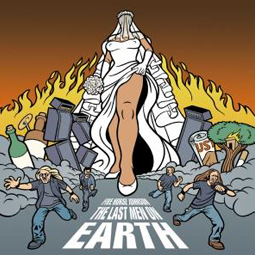 Label: Small Stone Records
Release date: October 14th, 2003
Catalog number: SS-042/
TRACK LIST
1. Cry Rain
2. Cherry Red
3. Soul Digger
4. Three at a Time
5. Blood Don't Pay
6. Love 2 Loose
7. Sweetwater
8. B.C. Approved
9. Sawhill
10. Yer Mountain
ALBUM INFO
The city of Toledo Ohio should really consider marking 1995 as a pivotal year in its cultural history (small book that would be), for it was then that Steve Smith (bass), Eric Oblander (vocal/harp), and Brad Coffin (vocal/guitar) decided to cut the crap and get down to the business of playing blues based rock the way they heard it in their punk and classic rock infested heads. Thus, the Glass City's finest band, Five Horse Johnson, was formed. The band came flying out of the gates like Four Horsemen of the Apocalypse. They quickly found themselves sharing the stage with the likes of Big Jack Johnson and War after just two weeks of being a band; that is just how long it took FHJ to put together their first set. Their next several years were spent in the dingy little clubs of America honing their craft.
Since then, with the addition of Mike Alonso on the drums back in 2000 (their fifth and final drummer by the way), FHJ's hard acid blues has made the band critical darlings, one of the most talked about acts among everyone from NYC hipsters, to the tattooed boogie rockers of Austin, TX. Not to mention Europe, where they seem to be received with open arms in just about every city and country that they roll into. They have played with an astonishing array (not to mention number) of bands; a long list that includes Raging Slab, Thornetta Davis, Southern Culture On The Skids, Big Sugar, Hubert Sumlin, Junior Kimbrough, and R.L. Burnside. More recently they have shared stages with Clutch, Deep Purple, Lynyrd Skynyrd, Nebula, Robin Trower, Jesus Lizard, Cheap Trick, Johnny Winter, Iggy Pop, Atomic Bitchwax, Bad Company, Queens Of The Stone Age, Nashville Pussy, Monster Magnet, Halfway To Gone, and have become one of the leading lights in what some people refer to as the new underground rock movement. Their live show has always been intense, but after 800+ shows, it has become a runaway freight train, period.
With four albums, four European and several US tours, and copious amounts of beer under their belts, Five Horse Johnson is preparing to drop their fifth full length album on an unsuspecting, but ready public. "The Last Men on Earth" will be rolling onto shelves this Fall and it is a recording firmly rooted in FHJ's unique brand of Hard Liquor Rock: guitars, groove, and grind. Influenced by the likes of Aerosmith (the early years), ZZ Top, Howlin' Wolf and Captain Beefheart, the feel of their new record is that of a band that has finally found its stride. FHJ has become so tight as a result of their continuous touring over the last several years that the sledgehammer attack of albums past has become a full-fledged wrecking ball. Tighter, stronger, American style rock without the pretenses of what passes for Rock & Roll these days, Five Horse Johnson's "The Last Men on Earth" will convert the masses out of today's 60's Garage fashion show into the early 70's arena where it so rightfully belongs… Saddle up, you are about to be run of of town!
Credits
Eric Oblander: vox & harp
Brad Coffin: guitar & vox
Steve Smith: bass
Mike Alonso: drums & percussion
Additional Musicians:
Phil Durr: ridiculator & guitar solo on "Cry Rain"
Ethan Daniel Davidson: backing vox on "Blood Don't Pay"
Executive Producer: Scott Hamilton
Produced by Al Sutton.
Engineered by Al Sutton, Dave Allison, Sam Vail, & Mr. Robert Burrows.
Mixed by Al Sutton.
Recorded and Mixed at Rustbelt Studios – Royal Oak , MI.
Mastered by Chris Gooseman at Solid Sound – Ann Arbor, MI.
Fine Arts: Mark Dancey.