SS-122 :: DWELLERS – Good Morning Harakiri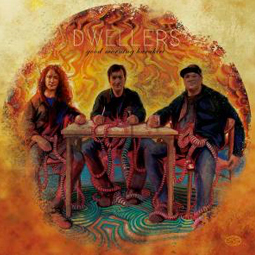 Label: Small Stone Records
Release date: 2012
Catalog number: SS-122/2012
TRACKLIST:
1. Secret Revival 05:59
2. Blackbird 06:28
3. Lightening Ritual 03:33
4. Ode to Inversion Layer 05:19
5. Old Honey 09:52
6. Vultures 10:11
REVIEWS:
ALBUM INFO:
If you enjoyed Iota's 2008 Small Stone debut, "Tales", then you are going to dig the Hell out of Dwellers. This could be, in part, due to
the fact that it features Iota song writer/guitarist/vocalist Joey Toscano. So yes, you'll get the heavy, fuzz-soaked, freaked-out,
psychedelic guitar assaults. But, what sets Dwellers apart from the afore mentioned band is a more focused approach to the song
writing. The songs are a bit shorter (if only slightly) and dive a little more into the psych/blues territory. You could say that Dwellers
are a bit more straight forward, but there are definitely many surprises to be had. Open tunings. Psychedelic slide guitars. Vibraphone.
Reverb-drenched fuzz. Sound good so far? We think so!
Completing the band is Zach Hatsis (drums) and Dave Jones (bass). Both of these cats were previously in doom/dark-folk outfit,
Subrosa, whose critically acclaimed album, "No Help for the Mighty Ones", was released on the well-respected underground label,
Profound Lore. So… imagine, if you will, Hatsis' and Jones' supreme knack for thundering, monumental low end, mixed with
Toscano's guitar freak fest, topped with melodic vocals, and…. well, now you're getting the picture.
Dwellers' full length debut, "Good Morning Harakiri", is set to be released on Small Stone Records in March of 2012, followed by a
Spring tour and stop at SXSW.
For fans of: Iota, Dozer, Led Zeppelin, Greenleaf, Lo-Pan, Pink Floyd, Obiat, Skanska Mord, and Roadsaw.

Released 17 March 2012
Guitar & Vocals: Joey Toscano
Bass: Dave Jones
Drums & Vibraphone: Zach Hatsis
Music: Joey Toscano, Dave Jones, Zach Hatsis
Lyrics: Joey Toscano
Published by Small Stone Records (ASCAP)
Recording and pre-mixing: Andy Paterson @ The Boar's Nest, Salt Lake City, UT.
Final mixing: Benny Grotto @ Mad Oak Studios, Allston, MA.
Mastered by Chris Goosman at Baseline Audio, Ann Arbor, MI.
Cover Painting: Sri Whipple
Inside Illustration: Brian "Kojak" Koschak
Layout: Joey Toscano