SS-145 :: JEREMY IRONS & THE RATGANG MALIBUS – Bloom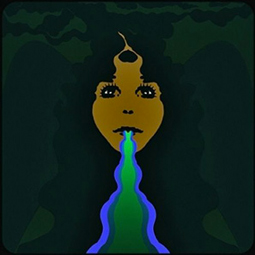 Label: Small Stone Records
Release date: November 26th 2013
Catalog number: SS-145
TRACK LIST
1. Elefanta
2. Skin Deep
3. Tales of the Future
4. Golden Hours
5. IAOA
6. Bloom
7. Cosmo Tropic
8. Fernando
ALBUM INFO
The grand return of the krautrock, and other similar musical pharmaceuticals, have yet again entrenched itself in many peoples ears. It is music with a retrospective way of thinking that takes its listeners on adventurous excursions deep into ones mind. Music that aim to broaden your horizons and consciousness. JIRM will make an impact on you in the same way with their second album Bloom; an innovative and highly personal take on the psychedelic rock and the very use of its many components and elements. As the indicating seriousness of the first line of the opening track reveals; "It's not a joke this time. I'm leaving reality for sure".
The band's musical references are more in a multi-colored fashion compared to it's predecessor Elefanta and has really taken the songs straight through the prism. Because what we hear, among a number of things, is a massive use of sweeping passages of dripping wet guitars that shake and tremble well into the morning, song dressed in an oceanic reverb that pours through the panting rock and roll, melodies that move in cycles and works that have a run time of more than nine minutes. The powerful debut of the organ can also be seen as a direct result of this change in influences, and the musical guest behind it, the gifted Patrik Kolar, whose masterful and accurate playing adds even further dimensions to an already well nuanced repertoire.
The ingredients above are all effective, both technical and musical, ways to go when making striking scenery in songs. And with a stronger and fuller soundscape it feels very vivid and intimate. Because this is an album of depth, drama and dynamics. One moment gentle and mellow, another frantic and on speed; like the sinister Tales of the Future, the sad grandeur of Fernando, the still and stylish Golden Hours versus the feverish and chanting guitars of Skin Deep and the good old ho down that is Cosmo Tropic. However, the songs' differences actually embrace one another and make, despite their contrasting nature, a very balanced album.
As you all probably understand, Bloom holds enough space for both thought and wild rain dancing. JIRM has let their soulfully smart rock and roll wander inwards and upwards. This is music that's aspiring to something bigger. Enjoy!
JIRM is a band from Eskilstuna, Sweden formed in 2004, established in Stockholm 2007 were the current line up of Karl Apelmo (vocals/guitars), Micke Pettersson (guitars), Henke Persson (drums) and Viktor Källgren (bass) compose most of their music.
JIRM have released 2 studio albums. The latter, Bloom, received great reviews all over the globe. And with this album JIRM finally found their path musically.
Expect a new album in early 2014 on Small Stone Records.
For fans of: Jeff Buckley, Can, Neu, Rolling Stones, Led Zeppelin, Tame Impala, Pink Floyd.
Credits
Jeremy Irons & the Ratgang Malibus are:
Karl Apelmo: vocals, guitar
Micke Pettersson: guitar
Viktor Källgren: bass
Henke Persson: drums
Additional Musicians:
Patrik Kolar: organ, mellotron, pianet
Viktor Holmstedt: backing vocals
Recorded at Studio Skyline, Eskilstuna, Sweden.
Produced by Jeremy Irons & the Ratgang Malibus.
Recorded and mixed by Marcus Sjoberg.
Mastered by Henryk Lipp at Music A Matic Studios, Gothenburg, Sweden.
Artwork, illustration and design by Micke Pettersson.
Photography by Johannes Gothager.
Published by Small Stone Records (ASCAP).