SS-157 :: LA CHINGA – Freewheelin'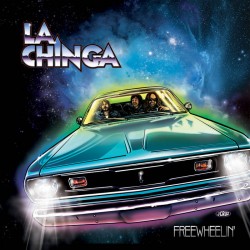 Label: Small Stone Records
Release date: March 25th, 2016
Catalog number: SS-157
TRACK LIST
1. Gone Gypsy
2. Mother Of All Snakeheads
3. White Witchy Black Magic
4. Stoned Grease White Lightnin'
5. Faded Angel
6. Mountain Momma
7. War Cry
8. K.I.W.
9. Right On
10. The Dawn Of Man
Album Info
It was in the year of the no lord 2012. In the dark wilderness of Vancouver, BC, where lost youths teemed in search of the true power of ROCK, three men chosen by occult forces too sinister to name rose up in answer to that dire and baleful call.
With their electric black magic unleashed and in full flight, they bonded with the children of the forest over Cro-Magnon riffery, pounding drums, banshee wails, bell bottoms, boogie vans and the sweet miracle of tequila. Through sheer stoopidity, brutality, violence and volume they honed their primordial craft into a sonic axe of stone, opening skulls with deadly precision for as far as the pterodactyl flew.
They would meet regularly, when the moon was full, filling their bellies with intoxicating wild berries, their faces wet with lizard blood as they summoned an unholy frenzy of orgiastic riffage, bashing out pagan odes to long forgotten Bronze Age deities.
Through their music they traveled back in time to year UR, where they became wild and their manes grew shaggier.
And through this transmogrification their vision became clear, the seas of bullshit parted before them and they were free to shuffle off the chains of modern society and raise a stubby and musk-tinged middle finger to the craven new world.
Their war cry became their name, their name: La Chinga! Their mission: to vanquish all foes.
A righteous weapon in the battle against mediocrity, their first album arrived from the ether in 2013 under their own banner and 2016 brings the second wave of their attack — Freewheelin'! Expect conquests across North America and Europe as they ascend to new heights of rock and roll supremacy, distorting minds and guitars alike as they once more hand-deliver audiences their own collective ass.
Three men. They howl, growl, prowl and stomp upon Terra in a glorious march to free mankind from his own mortal enemy — HIMSELF!!! La Chinga!! La Chinga!!! La Chinga…!!!!
Credits:
La Chinga is:
Carl Spackler: lead vocals, bass
Jay Solyom: drums, percussion, backing vocals
Ben Yardley: guitar, mandolin, theremin, backing vocals, lead vocals on track 5
Recorded and produced by Jay Solyom in his basement.
Tracks 8 and 9 beds recorded by Eric Neilson at Afterlife Studios.
Mastered by Chris Goosman at Baseline Audio Labs, Ann Arbor, MI.
Cover art by Jason Cruz.
Layout stuff by Alexander von Wieding.
All songs written by La Chinga.
Published by Small Stone Records (ASCAP).