SS-175 :: TIA CARRERA – Visitors / Early Purple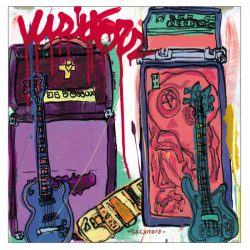 Label: Small Stone Records
Release date: March 22nd, 2019
Catalog number: SS-175LP
Track List
Visitors
Early Purple
Album Info
What can you say about Tia Carrera? Longevity, stamina, power, grace, sensuality, and telepathy? Don't forget bone shakingly loud, always impressive and truly psychedelic.
Jason Morales (guitar) and Erik Conn (drums), each with a reputation in ATX for their shredness, are now pushing 20 years together as Tia Carrera with zero signs of slowing down. They've recruited longtime friend and legendary bass wizard, Curt Christenson (Dixie Witch/Crimson Devils) as a permanent member, in a move made a few years ago that has emboldened the band's sound and dynamic, telepathic talent, and steadfast trajectory of heavy-psych-blues-bliss exploration.
The band is mysteriously and famously selective about what they officially release to the public. With every performance unique by the improvisation of their music, they've amassed quite a collection of recorded material, both live performances and private studio recordings.
Culled from the latter are the blistering plight of "Visitors" and muscle-car groove of "Early Purple," both of which can be heard on Tia Carrera's forthcoming release on Small Stone Records in Spring 2019.
Tia Carrera continue to gain new fans, influence their peers, ignite the legend worldwide, and are more respected and relevant than ever as veterans known to take their listeners on a journey of tripped-out and high energy proportions. It's clear to anyone in earshot the band still loves what they do. And when they play, they're loud enough that just about everyone is in earshot.
Credits
Tia Carrera is:
Jason Morales: guitar
Curt Christenson: bass
Erik Conn: drums
Recorded at the BBQ Shack, Austin, TX.
Mastered by Jerry Tubb at Terra Nova.
Artwork by Tim Kerr.
Layout by Alexander von Weding.
Published by Small Stone Records (ASCAP).