SS-180 :: LORD FOWL – Glorious Babylon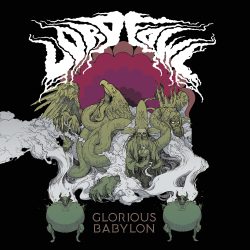 Label: Small Stone Records
Release date: April 24th, 2020
Catalog number: SS-180
Track List
Fire Discipline

Glorious Babylon
Get Lost
Deep Empty
The Wraith
In Search Of
The Gramercy Riffs
Red Cloud
Epitaph
Space Jockey
Album Info
Lord Fowl took shape in New Haven, CT, in the summer of 2007 with one goal: write songs like those they grew up hearing. Songs that drive you. Songs that come alive. Songs that rock.
With Glorious Babylon, their third LP and second on Small Stone Records, Lord Fowl refuse to compromise this high standard, bringing forth the energy of their dynamic stage presence and dual lead vocals, as the song-craft of singer/guitarists Vechel Jaynes and Mike Pellegrino reaches its next level of progression.
At the helm of BirdsEye Studios in West Haven, CT, as producer, bassist Jon Conine (assisted by Steve Hill) captures Lord Fowl's vitality as only one part of the fray could hope to do, and though drummer Michael Petrucci has since left the band with Van Hartley stepping in to fill his significant percussive shoes, the drums provide the foundation of Glorious Babylon.
All across the record's 10-song/ 37-minute span, Lord Fowl raise their own bar. After 2008's Endless Dynamite and 2012's Moon Queen, Glorious Babylon arrives as an awaited third chapter in Lord Fowl's peculiar mythology, harnessing the spirit they've brought to stages up and down the East Coast, at SXSW, etc., and breathing life once more into classic, soulful, and psychedelic heavy rock and roll.
With a sound just as likely to nod to Thin Lizzy and a heavy Funkadelic as to early Queen or Paul Di'Anno-era Iron Maiden, it is still the vision and classic purpose of their songwriting that brings the band together. Songs that rock. Old heads, new heads, riff-worshippers and freaks: Lord Fowl have built a city just for you.
For fans of: La Chinga, Freedom Hawk, Fu Manchu.
Credits
Lord Fowl is:
Jon Conine: bass, guitar
Vechel Jaynes: guitar, vocals
Mike Pellegrino: guitar, vocals
Michael Petrucci: drums, percussion
Recorded and engineered by Jon Conine and Lord Fowl at BirdsEye Studios – West Haven, CT.
Assistant Engineer: Steve Hill.
Mixed by Steve Lehane at Rustbelt Studios – Royal Oak, MI.
Mastered by Chris Goosman at Baseline Audio Labs – Ann Arbor, MI.
Additional vocals on Deep Empty by Aimee Cooper.
Cover art by Andrew Perkowski at Black Unicorn Studios.
Layout an design by Alexander von Wieding, zeichcentier.com
All songs performed by Lord Fowl.
All songs written by Jaynes/Pellegrino.
Published by Small Stone Records (ASCAP).
Dedicated to the Loving Memory of Brian "Budzy" White
and too many others to mention…