SS-187 :: GREEN DESERT WATER – Black Harvest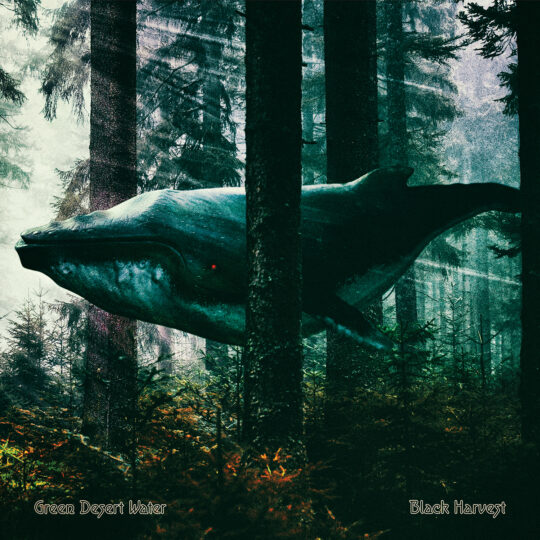 Label: Small Stone Records
Release date: November 5th, 2021
Catalog number: SS-187
Track List
Sacred Tree
Dead Sacred Tree
Too Many Wizards
Black Harvest
The Whale
Shelter Of Guru
Soul Blind
Album Info
Bordering on a decade since their first EP, Green Desert Water present their most cohesive, classic and vibe-ready work yet in their third album, Black Harvest. With the introduction of new drummer Dani Barcena, guitarist/vocalist Kike Sanchís and bassist Juan Arias García unite in classic power trio fashion, the Oviedo, Spain-based unit building on the significant accomplishments of 2018's Solar Plexus with even more flash of heavy blues, psychedelia, and weighted riffery.
Can you hang? Of course you can. Wo Fat's own Kent Stump sits in on the title-track, which is a fitting centerpiece rife with AC/DC-vs.-Sabbath vitality, following behind the opening salvo of "Sacred Tree" and "Dead Sacred Tree," which set a tone figuratively and literally for what follows with a focus on melody and songwriting – the catchy "Too Many Wizards" could easily be a state-of-the-union for the heavy rock underground – tempos no less comfortable careening than they are crashing, and a classic sensibility filtered through modern production that leaves the songs full and engaging for the most fickle of attention spans.
Later, to be snared by "Shelter of Guru" is to take a ride in a traditionalist caravan, and both journey and destination satisfy ahead of the capper boogie in "Soul Blind." Rest assured, you're about to spend 38 minutes in the presence of masters. Roll with it and be glad you did.
RIYL: La Chinga, Captain Beyond, Lord Fowl, Black Elephant
Credits
Green Desert Water is:
Juan Arias García: fuzz bass
Dani Barcena: drums and percussion
Kike Sanchís: guitars and vocals
Additional guitar on "Black Harvest" by Kent Stump.
Backing vocals: Alvaro Barcena
Recorded and mixed by Pablo Martínez at Ovni Estudio, Bonielles (Asturias, Spain).
Co-produced by Diego Martinez and Pablo Martinez.
Technical assistance by Dani Sevillano and Dani Valdes.
Mastered by Kike Sanchís at Green Desert Mastering, Uvieu (Asturias, Spain).
Cover art, design and inner photo by Ossobuko Studio.
All songs by Green Desert Water.
Published by Small Stone Records (ASCAP).