SS-081 :: IOTA – Tales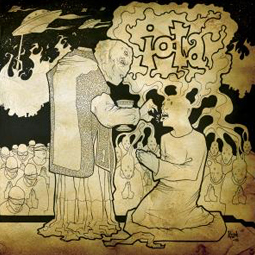 Label: Small Stone Records
Release date: June 10th, 2008
Catalog number: SS-081
Track List
1. New Mantis
2. We Are the Yithians
3. The Sleeping Heathen
4. Dimensional Orbiter
5. Opiate Blues
Album Info
When Iota's Tales was first released more than a decade ago, it immediately heralded a change in the scope of heavy rock and roll. From the hard punch of its opening duo "New Mantis" and "We are the Yithians," it departed into three extended cuts that drew together already-classic elements of weighted riffs with a doors-thrown-open sense of space and jammed into scorched-solo psychedelic oblivion. With Joey Toscano, who'd go on to form Dwellers, on guitar and vocals, the suitably wizardly Oz on bass, and recording engineer Andy Patterson, who soon enough would join SubRosa, Iota raised a monolith of singular intent and showed throughout Tales a potential that was entirely their own.
The Salt Lake City trio had been around for over five years by then, having formed in 2002 and released two demos before the album as they earned local praise and found themselves supporting the likes of Brant Bjork, High on Fire, Black Cobra, Eternal Elysium, The Sword and others. And that's all well and good, but it would be Tales that defined them, whether it was "The Sleeping Heathen" started off at a sprint on its 10-minute run, "Opiate Blues" sure enough finding room for some harp alongside its dirt-covered riffs and foresight-laden heavy blues pulsations, or the massive sprawl of the 22-minute "Dimensional Orbiter" that dream-jammed its way toward the outer reaches of cosmic sensation. Tantric, broad and a gorgeous showcase of a dynamic ready to storm the earth, it helped earn Iota a cult following that persists over 10 years later.
And along with anyone else who might be fortunate to stumble upon it, that cult, quite frankly, deserves to have Tales on vinyl. This is the first official LP release of the album, so call it a reissue or don't. It doesn't matter. Music this good exists out of time, and whether Tales is new to a listener or a well-kept secret regarded as a classic unto itself, it still sounds as far-reaching as it did when Iota unfurled it the first time around. It wasn't to be missed then. It's not to be missed now. — JJ Koczan / Jan. 2019
Credits
Iota is:
Joey Toscano: guitars, vocals
Oz: Bass
Andy Patterson: drums
Recorded and Mixed by Andy Patterson.
Mastered by Chris Goosman at Baseline Audio – Ann Arbor, MI.
Blues harp on "Opiate Blues" by Bad Brad Wheeler.
Artwork by Brian Koschak.